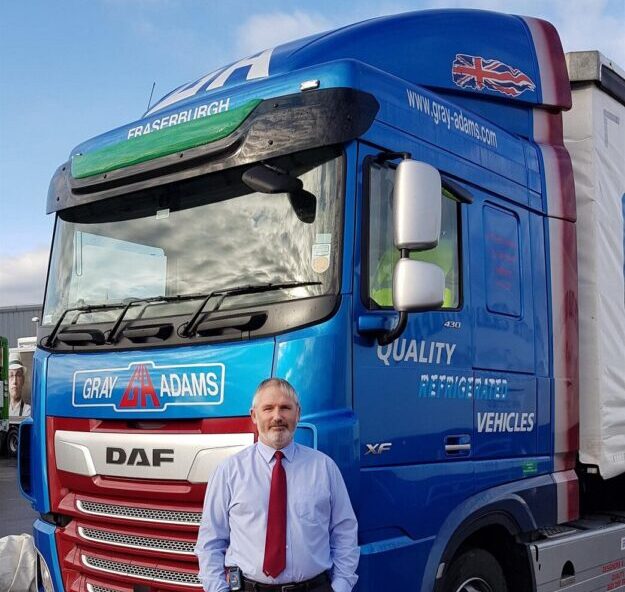 20 Dec

Engineering Innovation – An interview with Ian Smith

Gray & Adams recognise the key to our long-term success is our people and commitment to innovation. As one of our values, Gray & Adams put innovation at the heart of everything we do, we have continuously strived to develop new solutions to meet our customer's requirements, as well as taking the ever-growing environmental concerns into our consideration.

One of the individuals responsible for innovation in the engineering space is Group Engineering Manager, Ian Smith. Ian has worked with Gray & Adams in the Fraserburgh HQ for over a decade, with extensive experience in the commercial vehicle industry prior to joining the business.

As we leave the year of our 65th anniversary behind and look ahead to 2023, We have asked Ian to reflect on what milestones from an engineering perspective have been most memorable and discuss what is next for the industry.

Ian tells us,

"We can't discuss milestones without first mentioning the double deck trailer which was originally developed by Gray & Adams in the 1990's. Since the introduction of this product to UK roads, we have continuously worked on the betterment and development of this product, constantly responding to market needs.
Gray & Adams is focused on the longevity of our products, so we are constantly developing and testing ways we can be superior to our competitors in this area."

Whilst moving on to discuss the changes in legislation in the industry, Ian shares a key insight from his experience,

"Prior to 2012, we did not have type approval to deal with and we just focused on the UK legislation requirements that were in place as the time. With the change in 2012, the type approval process for trailers has been slightly more challenging as we have to now balance customer wants with what is appropriate legally, however, this is has carved out an opportunity for Gray & Adams to be a market leader in our sector, as we slowly began to take on more of an advisory role rather than a body builder with a sales team.
Using our expertise, we are able to guide our customer into deciding on what's right for their business and brand but within the confines of the law. An example of this is when we discuss LED lighting on a trailer, it's almost the 'bling' of a trailer so to speak and looks aesthetically pleasing, however we need to be mindful of what is within the limits of the law, as lights can be distracting for other road users so they are an element that is regulated."

The customer advisory experience is something that Gray & Adams has become synonymous with over the years, our team of experts ensure that the customer is making the right choice and it is interesting that this strategy impacts every member of the team.

Moving onto more recent history, Ian then discusses the partnership with Carrier Transicold and the introduction of the Vector eCool

"Working with the team at Carrier to develop the eCool was a really smooth and enjoyable process for the engineering team. We knew from the start of the partnership what both businesses wanted to achieve, and it was just a matter of minor tweaks to get it to where it is now. The initially came and spoke with us confidentially about the idea which was a real pleasure that Gray & Adams was in the forefront of their mind as a partner for innovation.

The biggest challenge with electric commercial vehicles does remain the type approval that I touched on earlier, we want to make this a more streamlined process and we are working with the relevant bodies to do so. At the moment, each trailer needs to go through an individual inspection which does incur some cost, however Gray & Adams and Carrier absorb this in R&D rather than putting it on to the customer who is really trying to make better and more sustainable choices. We managed to catch up with the Department of Transport at the Commercial Vehicle Show earlier this year where we raised this as a red tape issue for further discussion.

Ian then moves on to discussing from his perspective, what is next for the business,

"Sustainability and environmental issues are obviously key topics and will remain so into 2023. Electric vehicles are a huge focus in the industry at the moment and they definitely have their place, however I am personally excited to see the development of hydrogen powered engines. Hydrogen is a bit of an underdog compared to electric at the moment, but I am keen to see the capabilities explored in more depth. End of life issues and disposing of the batteries in electric vehicles is something that still needs research and development so I think it is important that we explore OTHER alternative fuels at the same time.