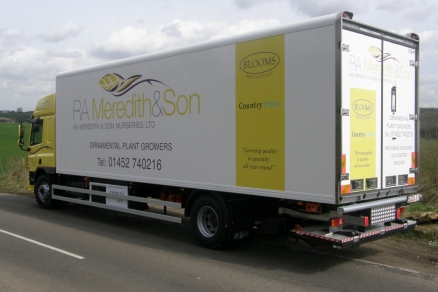 09 Jun

Bespoke Gray & Adams Flower Transporters for Merediths

Gray & Adams Ltd. has recently delivered a number of temperature-controlled rigid vehicles to horticulture supplier, R. A. Meredith & Son Nurseries Ltd. The vehicles were specially designed for the transportation of flowers and pot plants within so-called 'Dutch trolleys'. The bespoke nature of the Gray & Adams design process was put to the test in the manufacture of these vehicles as all efforts to maximise internal space were employed in the design due to the unusual size of these cages: 1355 x 570 mm. A total of 28 cages have been achieved on these 18 tonne, 9 metre bodies within a maximum overall width of 2600 mm.
"Gray & Adams worked with me on the vehicle dimensions to maximise the number of cages that we could fit into the vehicles. By arranging the cages differently and by moving to a slightly longer body, we have managed to increase the number of cages per vehicle, from 26 to 28." – Gary Counsell, Transport Manager, Merediths
These refrigerated bodies have replaced dry freight vehicles that had reached the end of their leasing contract. A decision was made to order refrigerated vehicles as opposed to the previous set up of dry freight boxes with heaters in order to enhance product quality at all times of the year as the Meredith product must be transported at between ten and 12 degrees centigrade for optimum conditions.
"We chose Gray & Adams as our vehicle supplier as we hope to keep the vehicles for six years with the intention of remounting onto new chassis at the end of this term which should give us another four or five years operational life. We therefore needed a supplier that builds a good quality product in order to get the longevity that we require. So far we are very pleased with the overall look and build quality". – Gary Counsell, Transport Manager, Merediths
Internal space, both length and width, were maximised using a number of methods, that were either already unique to Gray & Adams or that were designed specially for this project and have resulted in increased vehicle productivity.
As well as a different cage layout, Gray & Adams assessed the panel design for the roof, sidewalls, floor and back doors. The bodies were constructed using various techniques to maximise the internal loading space but this has not been to the detriment of temperature-control as they are built to ATP Class C.
All internal equipment was recessed so that there is no protrusion into the internal space. For example, the damage protection kickstrips were recessed into the sidewalls to give a maximum 2500mm of space between them, roof and floor loadlok tracking was designed to sit flush with the floor and Gray & Adams impressed loadlok was incorporated into the design. A specially designed slimline light switch was even designed for this specific job.
The custom-designed Meredith bodies also incorporated the Gray & Adams Eco-Aer aerodynamic packages of large radiused cappings and vortex generators. Although these features offer significant advantages in terms of reduced fuel consumption, the rounded cappings do require that the front bulkhead thickness is increased slightly. In a normal operation this would not cause any problem but when space maximisation is so critical, as is the case in flower transportation vehicles, it takes a particular engineering solution to allow for this. According to Mr. Counsell, "We decided to try this to enhance fuel economy but also to off-set the additional cost of opting for refrigerated vehicles this time".
Also important in horticulture operations is effective airflow within the vehicle. The bodies had a specially designed air return system fitted to ensure sufficient airflow around the produce being transported.
The rigid vehicles are refrigerated by Carrier Supra 850 undermount fridges and have Dhollandia DH-SM retractable tail lifts fitted. The chassis chosen by the customer were DAF FA CF65. Undermount fridge units were chosen for the rigid vehicles as a result of feedback from drivers for more cab space – the removal of the fridge from the front bulkhead obviously gives room for increased tractor unit height, which is particularly important for sleeper cabs.
The company is now also awaiting delivery of 13.6 metre flower transporter trailers, which can accommodate 43 Dutch trolleys. The trailers have been built to both ATP and TIR and are refrigerated by Carrier Vector 1850 units and have Dhollandia DH-SMR undermount tail lifts fitted. Merediths chose Dhollandia tail lifts for the trailers and rigids as they had previously used this supplier and were very happy with the reliability of the product and service.
R A Meredith & Son is one of the largest producers of ornamental plants in the UK, supplying plants to retails outlets, including DIY and Garden Centres, as well as providing bedding plants to many local authorities. Despite increased competition and the current economic climate, Meredith's has continued to grow year on year. The company attributes this to their innovative approach to business as well as the genuine value for money that the company offers to their customers. True to their innovative philosophy, Merediths jumped at the opportunity to reduce fuel consumption and CO2 emissions when they were introduced to the concept of the Gray & Adams Eco-Aer package. Obviously, preserving the environment is an important consideration to Meredith's, given the nature of the product that they produce.