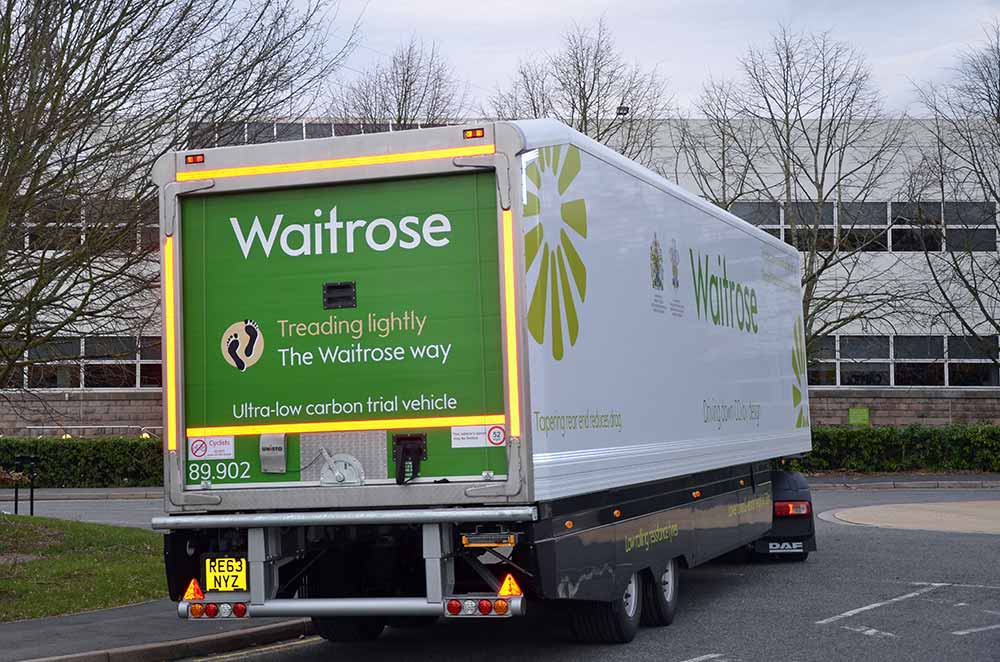 09 Nov

Case Study: Waitrose Ultra Low Carbon trailer

Waitrose, the food retail division of Britain's largest employee-owned retailer – the John Lewis Partnership, have a strong belief in championing British produce, building long term relationships with suppliers, working sustainably to deliver quality produce that helps their customers get the best and freshest possible products.

With a long-standing relationship spanning over many years, Gray & Adams are a key supplier for The John Lewis Partnership in enabling them to fulfil their commitment to customers to delivering the best quality food and produce.

The Customer Problem

As part of the John Lewis Partnership's participation in the Government's 'Low-Carbon Truck Trial' programme, and with input from Cambridge University, the retailer had developed a design for a groundbreaking trailer that takes environmental compatibility to another level.

The brief to Gray & Adams was clear: bring this vision to life.

Our Innovation

To reduce drag Waitrose's groundbreaking 'Ultra-low carbon' trailer features a 'boat tail' design with slightly tapered side walls and a smooth underside, open at the back. Other wind-cheating enhancements include Gray & Adams' large radius panel cappings and side skirts.

This trailer employs a Carrier Vector 1950 multi-temperature refrigeration system that can also be powered electrically from the CNG (compressed natural gas)-fuelled Scania tractor. The resulting designs were developed to cut aerodynamic drag by 14%. This, therefore, has been estimated to deliver fuel savings of approximately 7%.

Results

The 7% fuel saving improvement gained from this innovative trailer design translates into an annual per vehicle saving of around 2,800 litres of fuel, and a reduction in the amount of carbon released into the atmosphere each year of more than 7,000 tonnes. It also means that the John Lewis Partnership will recoup the increased capital cost of each trailer within two years.

We worked in partnership to ensure the project was completed to a high standard, on time and on budget. Built at our Fraserburgh headquarters, we have been building with more substantial orders in 2015, 2016 and 2017, each time with a continued focus on improving the trailer to provide continued environmental benefit.

Given that they envisage a 10-year life for their trailers, this trailer design has proved to be highly cost-effective delivering excellent value for money, as well as environmentally beneficial.

What our customer says

"It's all very well having a nice set of drawings, but you then have to make it work in the real world. Gray & Adams did a good job of that. We sat down with the Gray & Adams team and worked our way through it. I recall one problem relating to reversing the trailer onto the bay. It meant we had to amend the original aerodynamic design in order to accommodate the loading dock infrastructure, but we were able to do so without compromising the optimum boat-tail angle."

– Simon Gray, Engineering Manager, JLP.