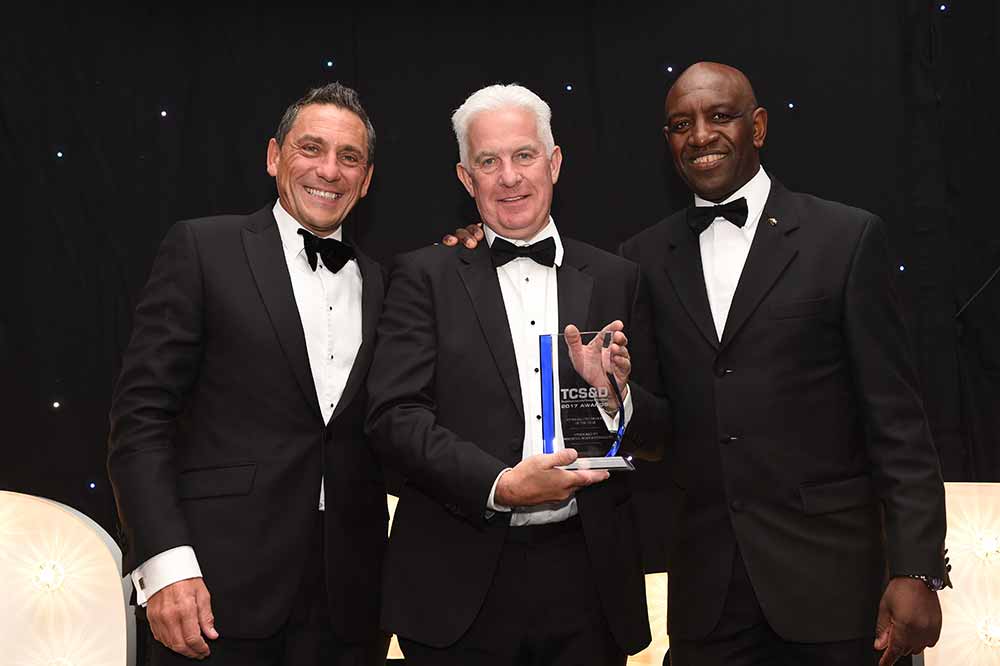 19 Sep

Double Award Win for G&A
Gray & Adams' position as the UK's leading supplier of temperature-controlled semi-trailers and rigid vehicle bodywork has been confirmed, once again, by being awarded two competitive awards.
The business has won both the Refrigerated Rigid of the Year and Refrigerated Trailer of the Year at the 2017 Temperature-Controlled Storage & Distribution Awards.
The event celebrates excellence in the perishable supply chain, and this year took place at the RICOH Arena in Coventry. The Awards were created to recognise companies who have made a difference in the temperature controlled storage and distribution industry, therefore, Gray & Adams are delighted to have been awarded two titles at this event.
Gray & Adams have had many reasons to celebrate in recent times, having had its 60th anniversary this year, reaching a turnover of £149 million (in 2016) and now having been awarded the titles of Refrigerated Rigid of the Year and Trailer of the Year. As a business employing more than 700 people at its headquarters in Fraserburgh, and with production facilities in Doncaster, Dunfermline and Belfast, and an after sales operation in Bedford, it's safe to say the pride and celebrations have been felt business-wide.
As a supplier of some of the biggest names on Britain's roads (the likes of Aldi, Co-op, M&S, Morrisons, Sainsbury's, Tesco and Waitrose – to name a few), the company has been described, by a loyal customer of 32 years, as having an abundance of "strong leadership, fantastic dedicated people and a product that stands the test of time".
The business' success in these award categories has recognised Gray & Adams' achievements in providing valuable products that improve customers' supply chains while exceeding expectations.
Peter Gray, who is joint Managing Director of the business with his brother James, commented: "Gray & Adams are committed and take pride in the degree to which our sales specialists and design engineers work with our customers to fully understand their requirements, and therefore we are able to provide them with trailers and vehicle bodies that are tailored to the particular needs of individual businesses. This commitment has facilitated our success and growth over the last 60 years".
The company's TCS&D Award entry submissions included a number of testimonial quotes from high-profile industry figures. One said: "The majority of our fleet is made up of Gray & Adams trailers due to their continued excellent quality."
Another further emphasised the quality: "The quality of Gray & Adams refrigerated rigids is superb. The finished product not only met my high expectations, but superseded them".
One confirmed the company's well-married quality products and exceptional service: "Gray & Adams provided a phenomenal service throughout this project, which had a very tight deadline and required innovative thinking and quality solutions. From the start of the project, we very quickly realised they had the same vision as us and quickly understood our objective. Working in partnership, Gray & Adams went above and beyond to produce a superb standard of rigid."
As a family business, Gray & Adams has a strong business ethos built around people. The award win is testament to both the talent and dedication of the staff and as a business, a commitment to the team's on-going development to ensure the longstanding customer centric approach to service and quality is upheld.