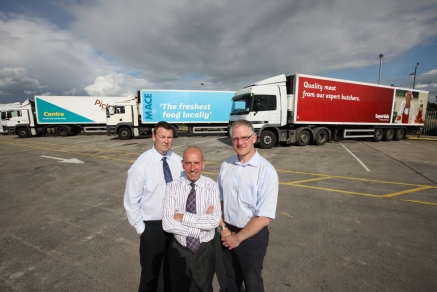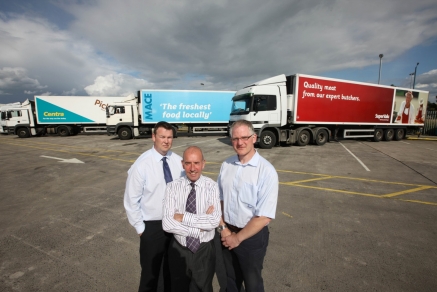 11 Feb

Gray & Adams Reliability, Flexibility & Cost-Effectiveness: A Winning Combination for Wincanton's Musgrave Contract

Wincanton Belfast has recently taken delivery of a number of new Gray & Adams multi-temperature trailers to service the company's contract with Musgrave Retail Partners.

The trailers are all specified with Carrier Vector 1850 multi-temperature refrigeration systems, which allow the trailers to operate under various temperature regimes from ambient to -25oC. Each trailer is fitted with a unique Gray & Adams Partition System, which easily allows the trailer to be split longitudinally, forming compartments for frozen, chilled and ambient products. Within the longitudinal compartment the length can be varied to suit the split between frozen and chilled products.
"The moving partition system gives total flexibility as the trailers can cater for all types of load, from split temperatures to full loads of frozen, chilled or ambient products." – John Ferguson, General Manager, Wincanton Belfast
The many configurations possible with this system allow the trailers to operate at a temperature of +2 oC in the wide lane and as low as -25 oC in the narrow lane, so that even deep frozen products such as ice-cream can be transported at the correct temperature alongside other produce.
One of the challenges outlined by Wincanton at the outset was that equipment suppliers must meet with a very specific service level agreement (SLA), which specifies precise breakdown cover, 100% first time PSV passes, 100% compliance with 'O' licensing and zero prohibition defect notices, to name a few. Gray & Adams has agreed a response time not exceeding 60 minutes anywhere in in the event of a breakdown in order to minimise any disruption to the trailer operation.
To fulfil the service level agreement, Gray & Adams (Ireland) Ltd. are taking full responsibility for the fleet management, including six-weekly inspections, all tail lift maintenance, including LOLER inspections and weight tests, fridge servicing and tyre maintenance, including tyre replacement, puncture repairs, tread depth checks and accidental damage cover.
Given that Gray & Adams (Ireland) Ltd. has a dedicated repair workshop that is separate from the company's production facility, accident damage can also be carried out as part of the one stop shop arrangement, which again reduces downtime and trailer movements.
As well as performing all maintenance functions, Gray & Adams had to meet very rigid criteria in terms of administration and paperwork in order to meet with the requirements of the Wincanton operator license and to fulfil the remit of Wincanton's client audits. All breakdowns are coordinated by Gray & Adams so that Wincanton has one point of contact, regardless of which piece of equipment the issue relates to.
"The one stop shop offered by Gray & Adams Ireland not only provides operational benefits to Wincanton, but also vastly reduces the work within the company's administrative department since all associated paperwork is provided by Gray & Adams in keeping with the SLA." – Michael Houston, Transport Manager, Wincanton Belfast
Traditionally Wincanton Belfast have operated almost exclusively with ThermoKing refrigeration equipment and although there were some teething problems in the early days with the Carrier units, this very quickly put the aftersales team of TSS Ltd., the Irish Carrier dealer, to the test and demonstrated the company's ability to respond quickly and to deal efficiently with problems. On every occasion, TSS has met with the 60 minute response time set out within the SLA. Early feedback received from Wincanton has outlined that performance has improved in terms of temperature pull down time and retention with the combination of Gray & Adams trailers and Carrier refrigeration.
The trailer specification that has been designed particularly for the Wincanton / Musgrave operation has created a winning combination of fleet reliability, operational flexibility and cost-effectiveness across the whole life of the trailers. As well as being roadworthy and legal at all times, the contract maintenance agreement will ensure that the Wincanton / Musgrave fleet is always at its optimum condition as there is no room for equipment defects in the demanding retail sector. Proactive, scheduled maintenance will keep trailer off-road time to a minimum, compared with the unpredictability and disruptiveness of costly reactive repairs.
"Gray & Adams have demonstrated that they are well set up to meet with our strict requirements. I had no hesitation in recommending Gray & Adams as a service provider, even on a seven year commitment, because my experience of the company has always been positive. At Wincanton we pride ourselves on adding value to our client partnerships and we expect the same from our suppliers. I had no doubt that Gray & Adams could step up to the job." – John Ferguson, General Manager, Wincanton Belfast