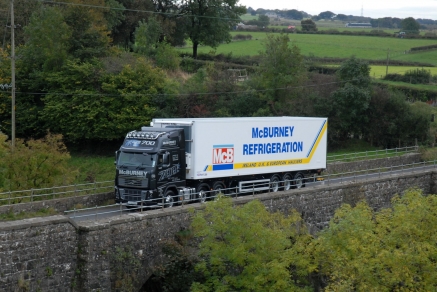 11 Feb

McBurney Transport Completes Final Leg in 2009 Replacement Cycle with Gray & Adams Trailers

McBurney Transport / McBurney Refrigeration has recently taken delivery of the last of a large number of new Gray & Adams refrigerated trailers. These trailers were ordered earlier this year to coincide with the delivery of the equivalent number of new Volvo FH-460 tractor units from Dennison Commercials in Ballyclare. This follows another significant order in 2007, which was the largest single order ever secured by Gray & Adams from a company in Northern Ireland. This year's order has topped the 2007 order, meaning that McBurney still holds this unofficial title.

Both orders reflect Norman McBurney's loyalty to the Gray & Adams product and indeed his relationship with Gray & Adams (Ireland) Ltd, which was established in 1981 when the Irish Gray & Adams depot commenced trading.

The recent trailer and tractor unit purchases were part of a routine vehicle replacement programme.
"The McBurney deal was very welcome at a time when the industry in general was seeing the effects of the downturn in the economy. This is a testament to the company's continued success during these difficult trading conditions. Our contract, along with the Dennison Commercials deal, is a true reflection of Norman McBurney's continued support of the local Northern Irish economy." – Billy Dougan, Managing Director, Gray & Adams (Ireland) Ltd.
"I continue to buy from Gray & Adams because of the trailer's superior construction. The trailers are very reliable because the quality is second to none." – Norman McBurney, Managing Director, McBurney Transport Ltd.
Mr. McBurney also maintains that Gray & Adams back-up service is always a consideration for him when purchasing because the fast turnaround time helps to keep his operation running smoothly.
Following a Show Case event organised by Dennison Commercials, McBurney Transport has also taken delivery of a limited edition Volvo FH16 700 tractor unit (shown in pictures attached), which is the first currently available in the UK. The tractor unit has been liveried in a new design created by McBurney Transport.
McBurney Transport group has a fleet of over 1,450 vehicles and trailers and currently employs over 600 staff throughout their network of depots in Ballymena, Dublin, Penrith and Liverpool, as well as having nearly one hundred dedicated sub-contractors based throughout the UK and Ireland. The family-run operation began in 1965 with the formation of McBurney Transport in Ballymena, Co. Antrim. Over the past four decades, the company has grown substantially to become one of Ireland's largest independently run logistics operations.