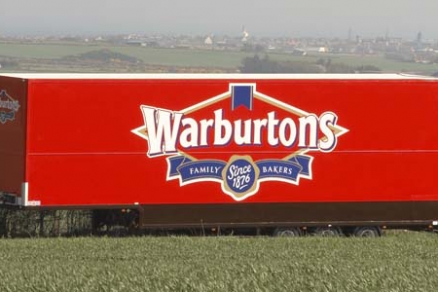 11 Apr

New Gray & Adams Trailer Design Delivers Operational & Environmental Benefits for Warburtons

A bespoke Gray & Adams designed double-deck trailer has successfully completed trials for Warburtons – the UK's number one bread brand. As a result of a successful prototype trailer, and in response to the family baker's continued growth, particularly in the South, an order has been placed for a further ten replica trailers.

Because bread must be transported in very specific environmental conditions, the trailers were designed to a very unique specification and are fully insulated to help retain product quality, which is paramount for Warburtons.

The fixed twin-deck trailers will be used for the Company's trunking operation and were designed with a special neck length to allow the maximum number of bread baskets to be loaded. Warburtons is currently rolling out a new design of bread basket across the Company and Gray & Adams has designed a new load restraint system to control the baskets during transit.

According to Mark Sutcliffe, National Transport Manager for Warburtons, the increased capacity of the new trailers, coupled with the reduction in damage to the product, due to the new load restraint system, has enabled the Company to deliver operational benefits, as demand has increased, as well as to control the increase in Warburton's carbon footprint.
"At Warburtons, we generally look for an innovative thinking company that can supply equipment of robust build quality and that offers a long term return on investment over the whole vehicle life. Gray & Adams fit this criteria perfectly and I was impressed by the Company's understanding of our operation and by the attention to detail that was paid" – Mark Sutcliffe, National Transport Manager, Warburtons
This is just one example of the benefits of the Gray & Adams consultative style sales approach. Gray & Adams does not simply manufacture trailers and vehicles: a design and development process is adopted for all enquiries, which considers the customer's entire business operation. This ensures that vehicle and trailer specifications are created that aim to improve the efficiency and profitability of the business.