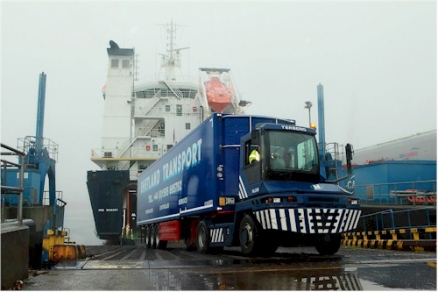 10 Jul

Shetland Transport rides the waves with Gray & Adams

When your business entails sending refrigerated trailers across the North Sea, year-round and in all weathers, you need to know they're built to withstand the rigours of the voyage – for Shetland Transport, only a Gray & Adams 'ferry spec' trailer will do.

The operator has just taken delivery of its latest batch of temperature-controlled Gray & Adams trailers, all of which incorporate a series of measures and uprated componentry designed to increase rigidity and protect them from damage in rough seas.

Soon to celebrate its 30th anniversary, Shetland Transport has headquarters in Lerwick and depots inAberdeen and Coatbridge, nearGlasgow and provides freight forwarding services throughout theUK andEurope.

Outbound trailers typically carry salmon – the Shetland Isles contributes more than half ofScotland's farmed salmon production – as well as fresh white and processed fish, and mussels, and return with a wide variety of fresh, chilled and frozen products for supermarkets and wholesalers.

Every day up to a dozen of its trailers make the 12-hour, overnight crossing to and fromAberdeen, or between the Orkneys and the mainland, a journey that typically takes up to eight hours.

Each trailer is secured as firmly as possible to the vessel prior to embarkation – air is 'dumped' from the suspension to prevent bouncing and the trailer's king pin is shackled to a deck-mounted trestle before additional chain lashings on both sides are pulled tight.

But as Shetland Transport founder and Managing Director Hamish Balfour explains, if the trailers are not up to the job they're still likely to buckle and bend over time.

"You can get rough seas in theEnglish Channeltoo," says Mr Balfour, "but the problem up here is the distances involved, the length of the journeys and the prolonged periods of stresses and strains to which our trailers are subjected.

"When the sea's up the gravitational forces can be immense… as the ship descends into a trough they're pushing down on the trailer; then, as it begins to rise back up the wave, everything starts moving in the opposite direction. Plus, of course, lateral forces will also be acting on the trailer throughout the voyage."

"Twenty years ago our trailers were disintegrating because they couldn't take the pressure. But the various strengthening measures that Gray & Adams builds into its ferry specification trailers mean we no longer have to worry. We've worked closely with the manufacturer as it has refined the design over the years, so that our latest trailers are the best yet."

Underling this point, the Shetland Transport fleet is dominated by temperature-controlled 13.6m trailers manufactured to ferry specification by Gray & Adams at its Fraserburgh headquarters – the latest are fitted with ThermoKing refrigeration units.

"Some of our G&A trailers are nearly 20 years old and still operational, because there's a part of the business for which older trailers are perfectly suitable," continues Mr Balfour.

"There's absolutely nothing wrong with them – Gray & Adams provide a first class aftercare service, supporting us with a rolling programme of refurbishment and accident damage repair, so the trailers always look nice and fresh from a presentational point of view."

Gray & Adams is theUK's premier manufacturer of temperature-controlled and insulated trailers and commercial vehicle bodywork. It is renowned for the outstanding quality of its comprehensive product range, as well as its consultative sales approach and ability to produce bespoke designs tailored perfectly to its customers' precise operating requirements.