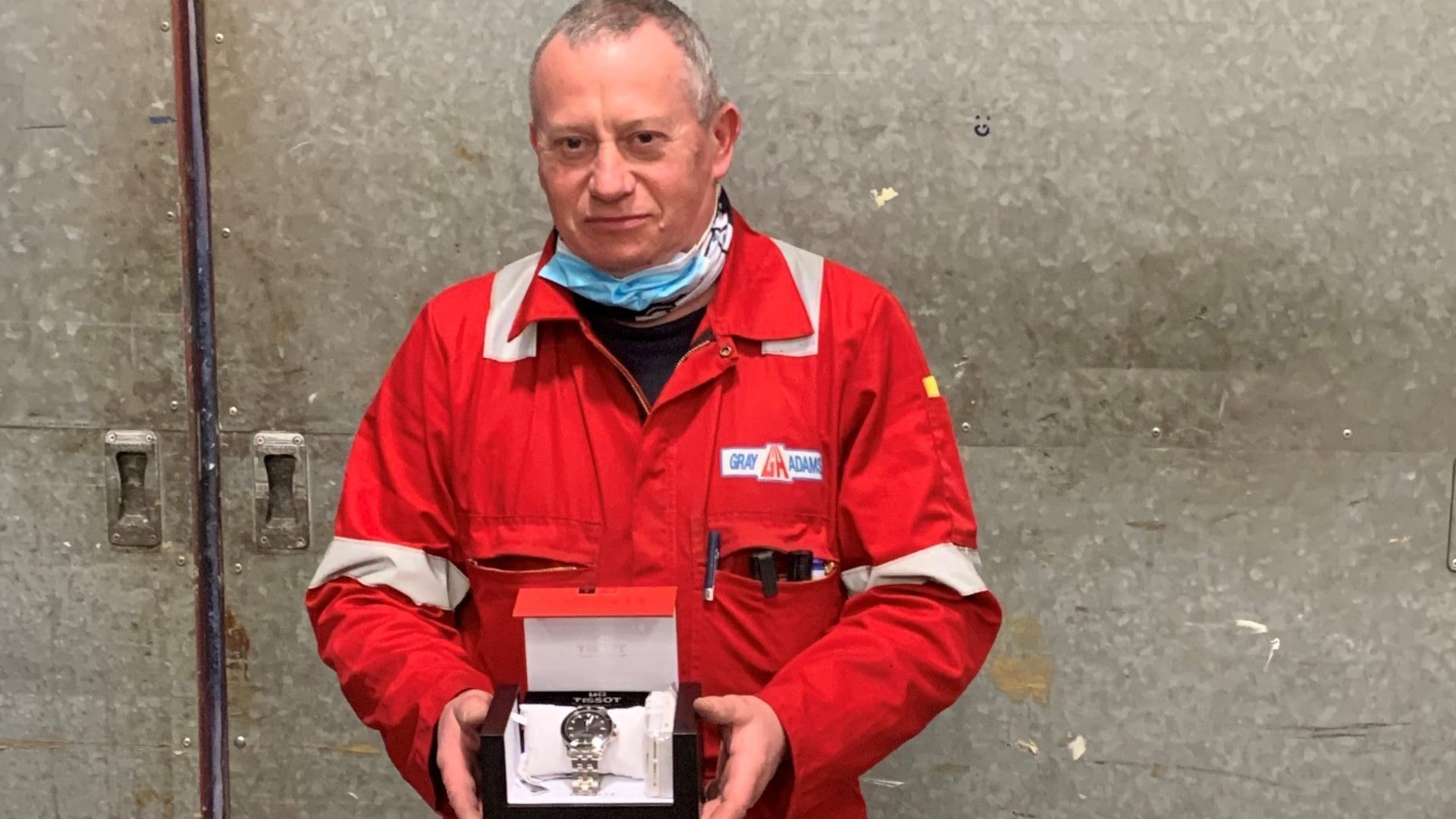 05 May

Celebrating a lifetime of value: Long service thanks and retiring staff 

Testament to the way the business is run, Gray & Adams have a number of employees who have served with us for many years. Our company has been built on their commitment and high-quality work, and we would like to take this opportunity to profile their careers and share our sincere thanks for their service. 
LONG SERVICE THANKS 
Jack Byron
Jack's career has spanned 25 years so far. Based at the Dunfermline depot as Assistant Line Manager, Jack partly is responsible for ensuring that every trailer that leaves the depot is safe, clean and meets the high standards that Gray & Adams have become synonymous with. As a company, Gray & Adams continuously look to improve processes, efficiency and other working practices and Jack has enjoyed being a part of this process of striving for quality by being involved updating the procedure manual for production. Working with the business has now become a family affair for the Byrons, as Jack's two sons have now been with the company for over ten years.
 "I've really enjoyed my career with Gray & Adams and I've held a range of positions with them over the year, most recently Assistant Line Manager. I've always felt that I've been well looked after by the company and the team that I work with are great. Some fond memories over the years has been attending the company golf day which was always a good day out!"
STAFF RETIREMENTS  
Morag Cooper
Morag has recently retired after working in the Fraserburgh depot for 18 years as a purchase ledger. In a very busy role, Morag was indispensable to the finance office, ensuring that supplier invoices were paid in a timely manner and of course, ensuring that her colleagues wages were correct and paid out on time. Morag also praised our response to the Covid-19 pandemic, telling us that she felt very safe returning to work and the procedures that we put in place made her feel very comfortable. Morag also tells us that she is looking forward to spending more time with her friends and her three grandchildren once restrictions are lifted. 
"I remember when Prince Charles came to visit us in 2017, that was a great day. He took the time to speak with everyone on the factory floor that came to meet him and he took an interest in all our roles within the business. I've seen a lot of changes in my 18 years with the company, one that sticks in my memory was learning the new computer systems for the office. It was important to pick it up quite quickly in order to keep everything running smoothly" 
Craig 
Soutar
Craig was one of the original employees at Gray & Adams Dunfermline, starting on 10 January 1977, he began is 44-year career as an apprentice with the business, progressing to Workshop Manager before eventually retiring in March 2021. In his final role of Workshop Manager, Craig was responsible for checking that all completed trailers were up to spec and took time to quality assure all aspects of the work from the team of workshop employees he managed. A fond memory for Craig is when he travelled to Germany with senior colleagues to explore new products and technologies that were coming out of Europe to help diversify Gray and Adams portfolio of solutions. Outside of his professional success, Craig tells us he is looking forward to having more time to pursue them now he has taken retirement.
 "The company were always very generous, and my colleagues have given me a travel voucher as a leaving gift to use when restrictions are lifted. I really enjoy travel and I'm thinking about using the gift to go to Egypt" 
Andrew Buchan
Andrew has recently retired after 32 Years with the business in the Fraserburgh HQ, he worked with us a Foam Fill Operative, moving from different departments in the factory floor until laterally finishing his career on the roof panels of our trailers. Andrew is also about to hit another exciting milestone in life as his 5th grandchild is due at the end of April. He told us that will keep his hands full during his retirement!  
 "You got some great laughs with the guys you were working with, even though some days good be hard work, you just got on with it and it was quickly forgotten. I'd just like to thank my colleagues for putting up with me for 32 years!"
John
Soutar
The Directors of Gray & Adams would also like to thank John Soutar for his 39 years of service with the business. John, a former welder, he progressed to Quality Inspector in Fraserburgh was integral to the business delivering quality to our customers for nearly 4 decades. We wish him well in his retirement.