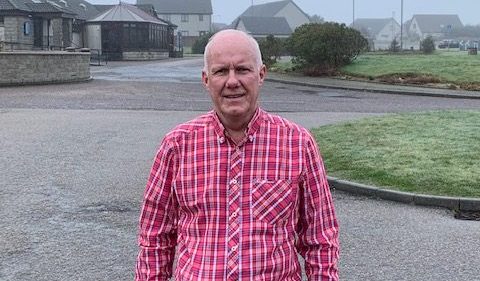 05 May

Staff Spotlight: Brian Fraser

We spoke to Senior Manager at our Fraserburgh office, Brian Fraser, to learn a little bit more about him and his role…

How long have you been working for Gray & Adams and what is your day-to-day role? 

I've been at Gray & Adams for 23 years and I am a Senior Manager, looking after building projects and also overseeing major customer accounts, which I really enjoy. 

What attracted you to the company initially? 

I was working at a Local Authority as a building surveyor and covered a large area from Port Soy to Ellon. At the time, there was a lot of reorganising in the authority which included changes to working practices and conditions. It wasn't working for me.  In 1998, I was offered a job at Gray & Adams by Peter Gray. At the time, I said to him and his dad Jim, "My working life up till now has been all building houses and construction." Jim said, "Building houses is no different to building trailers. They all have a roof, walls and floors – the only difference is the wheels!"  

 Gray & Adams is a great company to work for. I grew up beside them locally and have known of the business and the Gray family all my life. When I was offered the job, I decided to give it a go and see – 23 years later, I'm still here! I feel very fortunate to work here – the management team are fantastic and always take the time to listen to us. 

Tell us about your greatest achievements whilst working for Gray & Adams 

In terms of what I've achieved personally, it's upholding the fantastic ability that Gray & Adams has to fulfil and satisfy customer requirements for orders. Part of my remit is to check that all required dates are achieved. That could be a delivery to Livingston or Southampton. As a business, we are very customer focused – it has always been crucial to our service that customer's needs are met at all times. 

In terms of the business, I've been impressed with the heavy investment on the site at Fraserburgh and throughout the Gray & Adams Group. It's always been ingrained in us that we need to remain proactive to stay ahead. Having the foresight to keep things moving on and never standing still is a great achievement of the business that I am impressed by time and again. 

 What current industry innovation impresses you the most and why? 

Though it's not a new innovation as a product, as it was originally developed this in the 90's, Gray & Adams won the prestigious Queen's Award for Enterprise in Innovation in 2020 for its recent Double Deck design. This goes hand–in–glove with the point that you can't stand still in our industry – we're always looking ahead at ways to improve our products and services and we never compromise on quality. 

 How do you ensure customer service excellence for our customers? 

We measure customer service delivery through our ISO accreditation, which we update through annual review statements and customer interviews. We must be doing something right – repeat business doesn't land on your doorstep if you get it wrong. It's ingrained in us that we can never be complacent – we must consistently be good at what we do and continue to meet the expectations of our customers in every single order.  

If you could do someone else's job (at Gray & Adams) for the day, whose would it be and why? 

I would take a day in the canteen, serving food! I think they do a great job and I'd enjoy the change of pace. I can also say that I would never do the Managing Directors' jobs – the challenge of paying 750 people every month and keeping everyone on track. They do a fantastic job and I admire how they do it, but I'd not be keen to do it myself! 

What is the best thing about working for Gray & Adams? 

From my perspective, no two days are the same. I couldn't do the same thing day in and day out. I'm involved in a lot of different projects and the variety of the job is the thing that spurs me on daily. If I didn't still enjoy it, I wouldn't do it!
There's a great team at Gray & Adams and I hope that for the benefit of the town and community that Gray & Adams are here for another 60 years. We have lots of young talent looking to grow and develop and the highly skilled expertise of our established team are here to support that learning and development. 

Any memories of Jim Gray Snr which we can share? 

I've known Jim on a working and a personal level for many years. He was the kind of man who would pull you into his office and ask you a question, but he already knew the answer, so you'd better not waffle or try to pull the wool over his eyes. He was a fantastic boss and always knew everything that was going on. 

I took ill a number of years ago. The help and support, both financial and mentally, that I got from the whole Gray family was utterly fantastic. It was a real source of encouragement for myself, my family and even my extended family as well. The Gray family are a group of generous and caring people and many of the Gray & Adams team have benefitted from their kindness over the years. It's one of the reasons the team is so loyal and long serving.