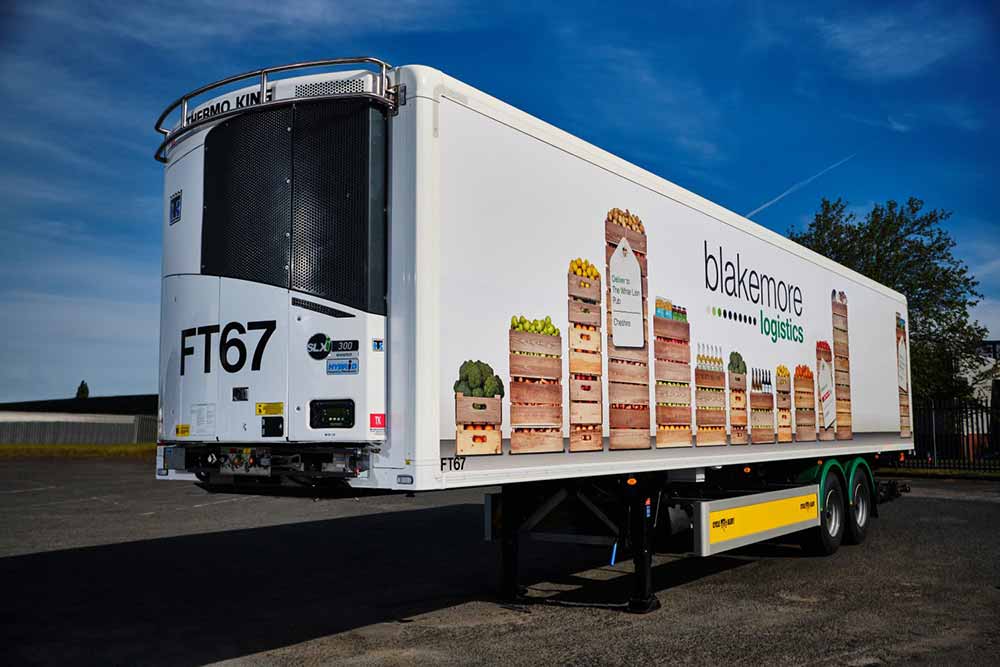 08 Dec

The Big Interview: Dave Higgs of Blakemore Logistics

How long has Blakemore Logistics been working with Gray & Adams?

I've been with Blakemore Logistics for 12 years and the relationship was well established before I began working here. The relationship has been going strong for over 20 years and it's as good now as it's ever been.

What services do Blakemore Logistics provide and in which sectors?

A.F. Blakemore & Son Ltd began life in 1917 as a counter-service grocery store and has grown into a company that now employs more than 7,300 people with a turnover of circa £1.1 billion. Food and drink have always been a huge part of the business and the group now includes retail, wholesale distribution, food service, logistics and shop fitting divisions. We're also the largest division of SPAR UK.

What have been the impacts of Covid-19 for Blakemore Logistics?

Blakemore Logistics has had some good and some challenging outcomes throughout the year. For SPAR, given the nature of its traditional position as the local shop, the effects of Covid-19 and the shift in public shopping habits to be focused more locally, has been really good for sales.

Conversely, our Food Service division has found it difficult. From pub and school closures hugely affecting our distribution to the associated challenges of having teams on furlough. It began to recover in August and we brought our staff and drivers back from furlough, but we have seen a slow down again in October and November, which is what we are dealing with in that side of our business at the moment. In Logistics, we've been really lucky and didn't have to furlough anyone. So, it's fair to say that Covid-19 is still having an ongoing impact for us, as it is with many, many other businesses in our industry and beyond.

How do you feel the Blakemore Logistics business aligns to the Gray & Adams business?

We are both family run businesses and that is something that really contributes to the culture we work in. Blakemore's success has been built upon a distinct ethos, focused on positive and friendly relations with staff, customers and the communities it serves. Gray and Adams is very similar in this regard.

We have something which we call 'The Blakemore Way' – it helps us to define our culture. It underpins our approach to business and puts into words what the company stands for. When we work with Gray & Adams, it's clear that we stand for similar things and work in a similar way – with honesty, integrity and people at the core of our business offering. That really comes through in our relationships and interactions with the Gray & Adams team.

What challenges do you see the industry facing at the moment?

The biggest challenge at the moment are the changes to legislation which direct the industry to move away from diesel by 2040. Every five to ten years or so in my career, I have witnessed our industry adapt to big changes like this. Whatever challenges have come, we've found a way to keep delivering. From the London restrictions and Ultra Low Emissions Zone (ULEZ) to fleet compliance. It's challenging but we'll get through it.

My biggest fear is the skills gap in our industry and how we can ensure we get the right talent coming through the ranks. It's getting harder and harder to attract young people into the industry. For some reason, it's not as appealing as it should be.

For me, it's different. I got into the transport industry in 1989 – when I left school. I started on the shop floor and went from the transport office to loading vehicles, working my way up. I've seen a lot of change in the way that we operate now, compared to 30 years ago. What I know for certain is, we'll find a solution as an industry. We always do.

What are the key innovations in the industry in 2020 from your perspective?

There are some really interesting developments within electric and gas-powered vehicles, and also some different advances in refrigeration which I think will be pretty exciting for our industry in the years to come.

How does Blakemore Logistics ensure it always stays at the forefront of industry innovation?

We're very lucky at Blakemore Logistics and I have a great relationship with our procurement department. Part of my role, along with our fleet engineer, is to go out into the market and get the best. It's not always about price for us as our trailers need to last from 10 to 15 years. As a business, we look for innovation, durability and quality – which Gray & Adams has always delivered for us.

How important is sustainability when considering the specifications of your fleet and how does Gray & Adams help you to achieve this?

It's a huge element of our fleet. We need everything to last a really long time. For our rigids, we need a minimum of 10 years and we want 12 to 15 years out of our trailers. You need sustainability to do that.

We've looked at everything – from electric fridges to aerodynamics, roof spoilers and side skirts. The added value we get from Gray & Adams is that they are inclusive at every stage of the process; they advise us of what is best for us and they are always honest. They're very transparent and may tell us that we can have this or that, but will also suggest when they wouldn't recommend a solution due to, for example, the damage it will incur in our operations. Sustainability is always at the forefront of our conversations and the level of their understanding of our business is not to be underestimated.

Are there any other key drivers which will impact how your fleet evolves moving forwards?

Of course, Brexit and the associated tariffs that may arise as a result of Brexit will have an impact on what we do going forward. Over time, we have to go through a process of replacement or refurbishment in our fleet. To safeguard our investment, we're now looking at, and considering, the needs of the group as a whole, rather than creating individual specifications for each division. This overview helps us to manage how our fleet is evolving together for the whole Group.

Finally, your thoughts about the overall service and aftercare received from the Gray & Adams team?

It's excellent – an inclusive process unlike any other that we've experienced. When you meet the team, the directors – they look after you all the way through the process. They're embedded in our business and I can go direct to the top if I need to. Like the Blakemore team, they have a way about them. You always know you're dealing with a Gray & Adams person – they're reliable and consistent and their service is second to none. It's one supplier I have genuine pleasure in dealing with.