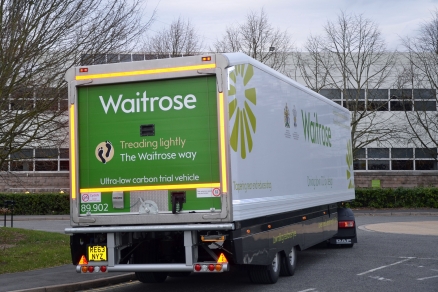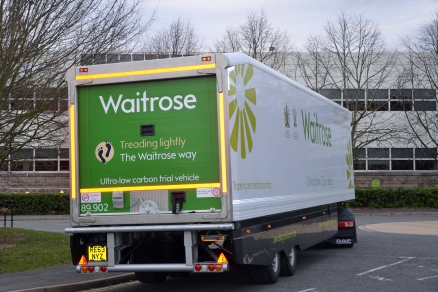 22 Aug

Waitrose hails Gray & Adams' key role in clean, 'green' trailer project

Gray & Adams has won praise from Waitrose for the part it has played in developing the retailer's ground-breaking 'Ultra-low carbon' semi-trailers.

Simon Gray, Vehicle Engineering Manager for Waitrose parent the John Lewis Partnership (JLP), highlighted the manufacturer's ability to turn radical designs into practical reality. He added: "We've worked with Gray & Adams for many years and the collaboration between our two companies works well."

Mr Gray was speaking shortly after Waitrose confirmed another clutch of orders for its aerodynamic 'boat-tail' trailers from the UK's leading temperature-controlled transport equipment specialist.

The John Lewis Partnership (JLP) is a member of the Centre for Sustainable Road Freight (SRF) consortium. A collaboration between Cambridge and Heriot-Watt Universities and organisations in the freight and logistics sectors, this researches engineering and organisational solutions that seek to make road freight economically, socially and environmentally sustainable.

Underlining its commitment to fuel-efficiency and carbon reduction, Waitrose has long specified its Gray & Adams trailers with wind-cheating features such as large radius panel cappings and side skirts.

However, through JLP's participation in the Government's Low-Carbon Truck Trial programme, and with input from Cambridge University, the retailer has developed a ground-breaking trailer that takes environmental compatibility to another level.

The academics conducted wind tunnel research and focused particularly on the aerodynamics beneath and around the rear of the trailer, as well as between the trailer and the tractor unit. They then came up with a series of proposed modifications designed to cut aerodynamic drag by 14%. These, they predicted, would deliver fuel savings of approximately 7%.

The Cambridge University recommendations included:
A tapered 'boat tail' on the upper rear of the trailer;
Slightly tapered sidewalls at the rear;
A lowered overall vehicle height;
A smooth underside, open at the back, to help air flow out from beneath, and
An air management kit for the tractor, matched closely to the trailer with minimal gaps.
The results of simulation modelling and other tests were encouraging, but practical considerations would be key to the success of the project – crucially, to be economically viable the 'boat tail' design must entail no loss of cargo space, while the new trailer must also be compatible with Waitrose's loading bays and existing equipment.
Enter Gray & Adams. Simon Gray explained: "It's all very well having a nice set of drawings, but you then have to make it work in the real world. Gray & Adams did a good job of that.
"We sat down with the manufacturer and worked our way through it. I recall one problem relating to reversing the trailer onto the bay. It meant we had to amend the original aerodynamic design in order to accommodate the loading dock infrastructure, but we were able to do so without compromising the optimum boat-tail angle.
"This was a typical case in point – whenever an issue arose Gray & Adams would come up with an alternative suggestion, which we'd then take back to the guys at Cambridge University to get their views. So it was very much a three-way collaboration, with the aim of getting the best possible result."
Rather than lowering the door height, the boat-tail taper was achieved by reducing insulation at the rear of the trailer, where ambient products tend to be carried and temperature control is therefore less critical. This meant there was no adverse effect on carrying capacity, and no cages were lost. Meanwhile, the trailer side skirts that cover half the wheels with the aim of reducing drag, were designed with a hinged mechanism which enables easy access to the underbody and wheels.
Waitrose commissioned its first handful of Ultra low carbon trailers in 2014. Built at Gray & Adams' Fraserburgh headquarters, these were followed by more substantial orders in 2015 and again in 2016.
"We've fine-tuned the specification along the way but the basic concept has been a success since day one," confirmed Simon Gray. "The trailers are delivering the 7% improvement in fuel efficiency that we'd anticipated, and this is over our standard trailers which are themselves of a low drag design.
"The 7% improvement translates into an annual per vehicle saving of around 2,800 litres of fuel, and a reduction in the amount of carbon released into the atmosphere each year of more than 7,000 tonnes. It also means that we will recoup the increased capital cost of each trailer within two years. Given that we envisage a 10-year life for our trailers, these are highly cost-effective as well as environmentally beneficial."
Waitrose has also ordered a number of specialised twin-deck trailers from Gray & Adams this year. "We're never satisfied at the John Lewis Partnership and are always looking at ways in which we can do things better," added Simon Gray.