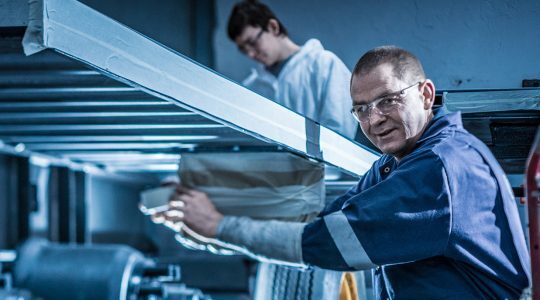 11 Jan

Gray & Adams Do the Donkey Work for Sawyers Transport!

Gray & Adams' After Sales Department has recently undertaken an unusual job for Sawyers Transport Ltd. The County Tyrone based company approached the Newtownabbey Gray & Adams depot to convert a standard fridge trailer into a vehicle to be used as a donkey carrying facility.

The trailer was transformed to include a number of health and safety features to make the animals' journey more comfortable. As well as this, the double rear doors can be unhinged and dropped down to offer a platform for the donkeys to enter the trailer. A total of ten windows have been added to each sidewall and three side doors have been fitted to the near side.

James Murphy, Repairs Supervisor for Gray & Adams (Ireland) Ltd headed up the project.
"It was a challenge for us as it required a bit more research and planning than the standard repair or refurb job but we were excited to take on this job as it was a bit different from our usual day-to-day work. We are delighted with the finished product." – James Murphy, Repairs Supervisor, Gray & Adams (Ireland) Ltd.
Ivan Brownlees, Gray & Adams Ireland's Repairs Manager also commented:
"We always welcome work that is a bit on the unusual side as we have built up the experience and skills to do specialist work such as this conversion. We are currently working on a number of large fleet refurbishments and are looking forward to starting on other specialist projects that we have in the pipeline." – Ivan Brownlees, Repairs Manager, Gray & Adams (Ireland) Ltd.
This trailer modification demonstrates the bespoke nature and the unique capabilities of the Gray & Adams after sales department. As well as all types of accident repair, Gray & Adams can refurbish or modify any type of trailer or vehicle body to the highest quality standard.