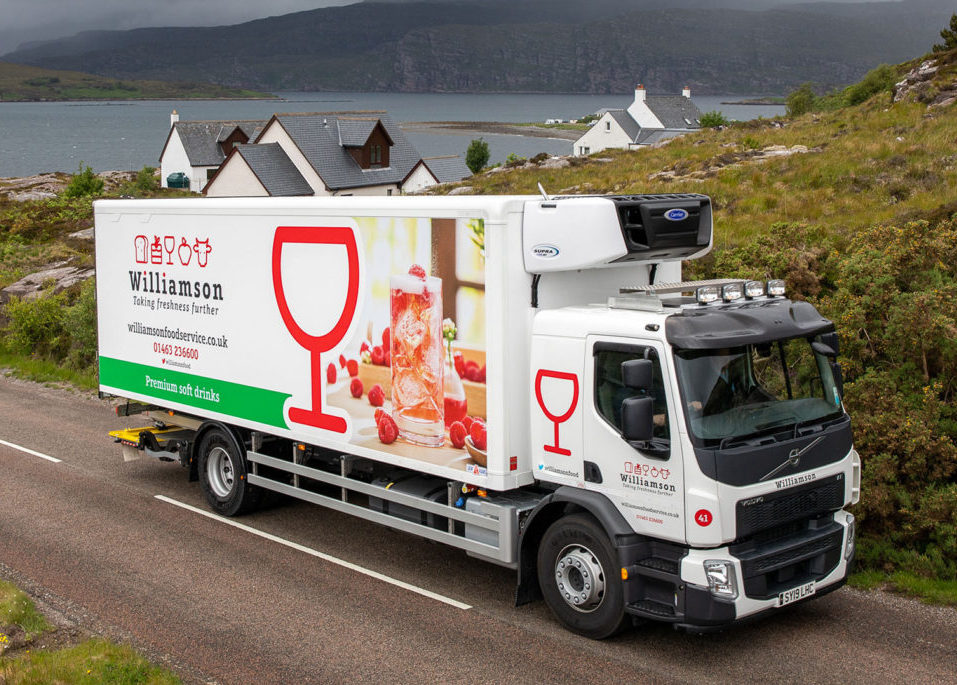 14 Jan

Case study: Williamson Foodservice
Established in 1957, Williamson Foodservice is a family owned business based in Inverness with depots in Stornoway and Glasgow. Specialising in fresh and chilled food and drink, they operate a temperature-controlled fleet that services the hospitality and retail industries throughout the North of Scotland and Western Isles.
CUSTOMER PROBLEM:
Back in 2017, having not purchased anything from Gray & Adams in a while, Williamson Foodservice decided it was time to add some new vehicles to its fleet. Approaching Gray & Adams for a new design, Williamson Foodservice was looking for a robust and efficient body, which would work well on the Highland roads.
WORKING COLLABORATIVELY:
Williamson Foodservice, having previously bought ready-made and non-custom-built bodies, had a long list of features they wanted to incorporate into the design. Although they had not bought from Gray & Adams for some time, there was still a good relationship in place with both parties eager to work together on developing new specifications.
SOLUTION:
Having purchased from Gray & Adams every year since 2017, Williamson Foodservice now have a number of high-spec vehicles operating in their fleet, with further innovations being built-in year on year. Their recent delivery included triple doors as opposed to barn doors that improve access for drivers and reduce temperature leakage.
IMPACT:
Williamson Foodservice has received excellent feedback from their drivers in regard to the high quality of the Gray & Adams products. As the primary user of the equipment, the drivers had an input into discussions surrounding the specifications of the vehicles, which have then been incorporated into the design and has ultimately created a good workplace environment.
CUSTOMER TESTIMONIAL
"The service received from Gray & Adams is excellent. They are extremely responsive and the fact we can lift the phone whenever we need any advice or quick resolutions is something we hold valuable. They are completely open to our ideas and always up for a conversation on new designs. If we need anything, the Gray & Adams team come to see us or if we need to have any work done to our vehicles, we can get it done here in Scotland."
GARY WILLIAMSON
MANAGING DIRECTOR