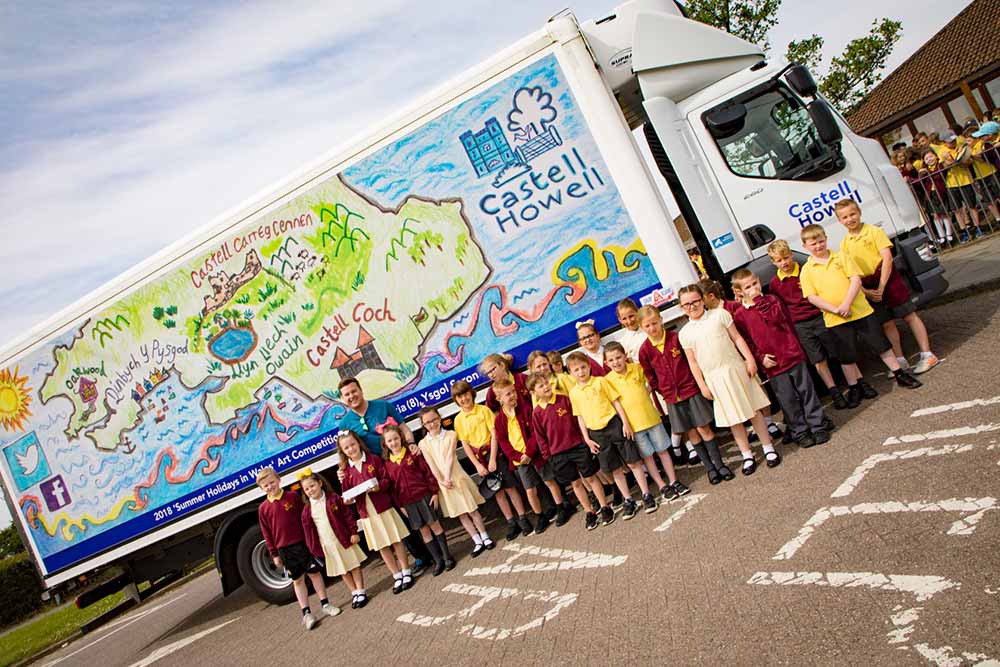 16 Oct

Delivering community engagement with Castell Howell

Delivering community engagement with Castell Howell | Gray & Adams understand that all our customers' needs are unique and therefore never offer off-the-shelf products. We take time to get to know their businesses and subsequently innovate and develop solutions that will unique to each of them.

One of the country's leading independent food wholesalers, Castell Howell – Now in their 30th year – service the length and breadth of Wales, the Welsh borders and the West Country. Their aim has always been to offer 'The Complete Catering Solution' and an integral part of this is their transportation fleet. Having worked with Gray & Adams since the early 2000's, Castell Howell has purchased multiple double deck trailers and over 50 rigids.

Most recently, they introduced an initiative to engage with their local communities using the Livery on key vehicles in their fleet.

Having built up a collaborative working partnership over the last 15 years, as companies we share a number of key principles that enable us to both deliver to our customers including innovation, on-time delivery, best quality products, exceptional service and great people. Another key aspect of this shared vision is about supporting and engaging with local communities.

Castell Howell recently launched a new livery initiative as a new way of engaging with young people and local communities. Their liveries over the last year have been inspired by key seasonal events, local schools and charities that they feel passionately about. The initiative has been met with great positivity and engagement both externally in these communities and internally with their staff.

A seasonal showcase
The first new livery was a showcase for their 'Delivering Christmas' campaign. Throughout the month of December, the Christmas Rigid, built by Gray & Adams hit the roads to share the festive spirit, visiting local schools, community hubs and key customers. Castell Howell's driver, Santa, arrived to surprise and delight children and adults alike.
The campaign was a resounding success and created great excitement at each Santa stop location. Due to the success of this campaign they once again took on a seasonal look for the Easter bunny Rigid, delivering Easter treats once again to the local community and key customers.
Castell Howell now plan to make this an annual event and look forward to spreading Christmas cheer in December 2018.
Engaging with local schools
To help promote Wales as a key tourist destination we engaged with local school children in their 'Holiday in Wales' competition.
This competition saw a country-wide competition for school children to draw their perfect 'Holiday in Wales' and win the chance of not only having their designed Livery applied to one of our Gray & Adams Rigids, but also to win a top of the range iPad and £2500 for their school.
The lucky two winners were announced in April and their livery designs have been seen across Wales on the Rigid from May through to September 2018.
A charitable cause
The next focus, launched in September 2018, is to support charitable causes. The first charity selected by Castell Howell is The Poppy Appeal and The Royal British Legion. The commemorative Rigid will be out on the roads from September.
Gray & Adams are delighted to be the supplier of choice to Castell Howell. Their recent engagement with the community is one we are proud to be a part of. We look forward to seeing this initiative continue the excellent work already achieved.