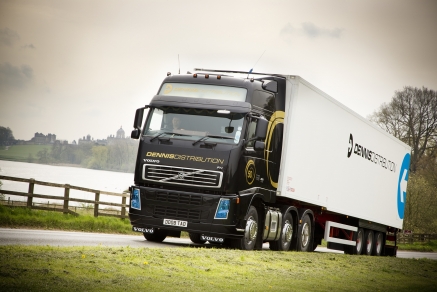 05 Jun

Dennis Distribution Celebrates 50 Years with New Gray & Adams Trailers & a New Volvo Tractor Unit

Yorkshire based specialist haulier to the meat industry, Dennis Distribution is celebrating fifty years in business. With a strong and loyal customer base of over 30 regular customers, the company has grown over the years. Not only has the company brought new customers on board but it has also expanded due to organic growth in the company's own customers.
Throughout the fifty year history of the Dennis organisation, change has been embraced and today this philosophy is no different as the company has many key short and long term goals for improvement. The introduction of a brand new bespoke-designed planning system, along with full staff training for all maintenance personnel and drivers, should enhance benefits to customers. Looking further ahead there are significant plans for a site relocation in Malton. The new purpose-built premises will be bigger and better designed to offer greater efficiency throughout the day-to-day running of the business.

Dennis Distribution operates a fleet of trailers and meat railers solely manufactured by Gray & Adams Ltd. The strong and longstanding relationship between these two companies could perhaps be attributed to the fact that both companies believe in working partnerships with customers and suppliers. In fact, Dennis Distribution believes that this, as well as the flexibility and reliability of their service, has been the reason that the company has achieved their fifty year milestone. They also believe, to an extent, that Gray & Adams has played a role in their success.
"As well as exceptional build quality, we see flexibility and reliability as being major strengths of the Gray & Adams product. It stands to reason, therefore, that these attributes can be passed down through the chain and means that our own customers will receive these qualities in the service we provide." – Richard Dale , Transport Manager, Dennis Distribution
These views were reiterated by Andy Slack.
"We offer a strong focus on quality customer service and again this is mirrored in the Gray & Adams organisation. Throughout the Gray & Adams business the staff that we have had contact with are all first class people and we like to think that this is how our customers view our staff members across the board." – Andy Slack, Commercial Manager, Dennis Distribution
The new Gray & Adams trailers recently purchased have moving internal bulkheads which offer greater flexibility in the Dennis fleet to ensure that different customer's products of different temperature bands can be transported simultaneously. The company has also recently taken delivery of a new Volvo FH12 tractor unit liveried with the company's 50th anniversary logo.