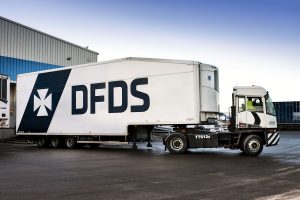 18 Apr

DFDS cuts road miles with first 44-pallet Gray & Adams trailers
Award-winning DFDS Logistics Belfast has underlined its standing as Northern Ireland's leading supplier of 'Complete' temperature-controlled logistical solutions across the Irish Sea and Europe by commissioning another clutch of highly specialised refrigerated semi-trailers from Gray & Adams.
The operator's latest consignment includes its first two 44-pallet double-deck trailers and four more Eurorail (round rail) single-deckers for transporting hanging pork.
The new twin-deck trailers are used primarily to service a regional distribution centre in Stoke-on-Trent operated by the high-profile Nisa group of independent grocers. Their 44-pallet capacity compares to the 26 pallets that can be carried on a 13.6-metre single-decker, and represents a 10 per cent uplift over a standard double-deck trailer.
Achieved through a series of cleverly-engineered measures that allow customers to make practical use of every precious inch of space on the two decks, this increased productivity translates into environmental benefits arising from a reduction in road miles, as well as valuable cost savings.
The Eurorail trailers, meanwhile, are assigned to DFDS's contract with leading pork processor Karro Food Group. The system allows the hanging pork to be moved seamlessly on rails from the customer's factory in Cookstown and onto the trailer, then back off again when it reaches its destination on the UK mainland – the reduction in manual handling and the damage this can cause ensures optimum product quality.
Within the last year DFDS Logistics Belfast has also taken delivery from Newtownabbey-based Gray & Adams (Ireland), of a new fleet of 13.6-metre single-deck trailers.
The operator's success in winning the prestigious Chilled Operator of the Year trophy at the 2016 Export & Freight awards, follows its decision two years earlier to embark on "a journey of change". With a new management team at the helm, and a refreshed enthusiasm for delivering on its core values, customers have been the focus of everything it does.
In addition to the substantial investments it has made in its people and trailer fleet, the company has just completed a 12,000 sq ft extension project that has added another four bays at its chilled warehouse, the largest dedicated temperature-controlled facility in the Port of Belfast.
DFDS Logistics Belfast General Manager Michael Houston confirms: "Gray & Adams is a long-standing supplier to our business and we rely on it for any temperature-controlled transport equipment requiring a bespoke design.
"The 44-pallet trailers are a 'first' for our business. The fact that we can now carry more pallets per trip has allowed us to increase efficiency, while also reducing our fuel costs and, as a result, cutting our carbon emissions.
"We've used the pork hangers before, but these new ones are a more modern version. As such they incorporate several enhancements, including the manufacturer's latest, aerodynamic panel cappings, which contribute to fuel efficiency."
Mr Houston adds: "We enjoy an excellent relationship with Billy Dougan (Managing Director) and his colleagues at Gray & Adams (Ireland). They are highly skilled and very professional, supplying top-quality equipment tailored to meet the precise requirements of our operation and supporting us with fast, efficient after sales back-up."
iaran O'Callaghan, DFDS Fleet & Workshop Manager, adds: "Gray & Adams builds premium products that have proved over time to be exceptionally well built, reliable and durable.
"Its Newtownabbey base, meanwhile, is only six miles from our own, and the team there do a great job in helping us to minimise downtime. They're competitively priced and very quick when it comes to body repairs, and provide a first-class parts service too."
DFDS is a leading European shipping and logistics network. DFDS Logistics Belfast has been providing refrigerated and ambient transport services, ranging from single-pallet consignments to full loads, between Ireland, and the UK and Europe, for more than a quarter of a century. Its 400-strong 'reefer' fleet delivers to all major retailers and wholesalers throughout the UK and Ireland.