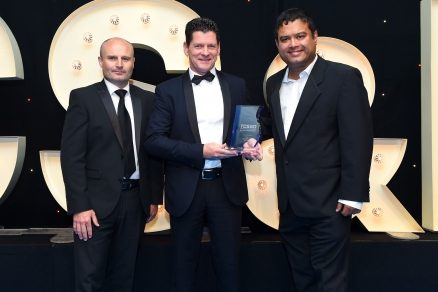 01 Nov

Gray & Adams chases down a winning double

Gray & Adams has underlined its standing as the UK's leading supplier of temperature-controlled semi-trailers and rigid vehicle bodywork by landing two coveted titles.

The company won the OEM (Original Equipment Manufacturer) of the Year and Refrigerated Trailer of the Year trophies at the 2016 Temperature-Controlled Storage & Distribution Awards.

The event, which celebrates excellence in the perishable supply chain, was hosted at the National Motorcycle Museum in Birmingham by comedian Paul Sinha, who is best-known for his role as a 'Chaser' on ITV's The Chase.

Founded nearly 60 years ago, Gray & Adams is now a £124 million (2015) turnover business employing more than 700 people at its headquarters in Fraserburgh, production facilities in Doncaster, Dunfermline and Newtownabbey, and an after sales operation in Bedford.

A supplier to some of the biggest names on Britain's roads, the company's lengthy customer portfolio reads like a 'who's who' of the UK food industry, and includes the likes of Aldi, Bidvest, Co-op, Greggs, M&S, Morrisons, Sainsbury's, Tesco and Waitrose.

Gray & Adams' success in the OEM of the Year category recognised "a range of products which have improved customers' operational efficiency". Meanwhile, value for money was an important factor considered by the Refrigerated Trailer of the Year judges. "The winner has achieved this," they observed, "by developing trailers which offer a high build quality while also maximising payload weight capacity for operators."

Peter Gray, who shares the role of Gray & Adams' Managing Director with his brother James, commented: "These prestigious awards reflect our collaborative design approach and ongoing quest for innovation, as well as our commitment to industry-leading standards of product quality and customer service.

"It is particularly gratifying that the TCS&D Awards are made by those who work within and fully understand the unique demands of the temperature-controlled distribution industry. My thanks go to every member of the company team, each of whom has played a part in helping us to achieve such fantastic recognition."

Gray & Adams does not offer off-the-shelf products. Instead, it takes pride in the degree to which its sales specialists and design engineers work closely with customers to understand their requirements, before building trailers and vehicle bodies that meet those needs precisely.
The company's TCS&D Award entry submissions including a string of testimonial quotes from high-profile industry figures. "Their innovations push boundaries," said one, adding, "Gray & Adams are absolutely on the ball with delivery and scheduling".
Another hailed the product quality that allows it to run its trailers for up to 15 years: "Gray & Adams work with us to understand our business, building bespoke trailers and improving them each time," he said. "We wouldn't get this from any other company."
And a third confirmed: "Gray & Adams do what they say and deliver to specification and on schedule every time. They are always very willing to work with sub-component manufacturers to make the trailers the best they can be."
Gray & Adams manufactures temperature-controlled bodywork for trucks and vans of all sizes up to 32 tonnes gvw, and a comprehensive range of semi-trailers that includes short urban and extra-long versions of up 15.65 metres. As well as producing single-deck trailers, it has led the way in the development of twin-deck variants with fixed or moving floors.