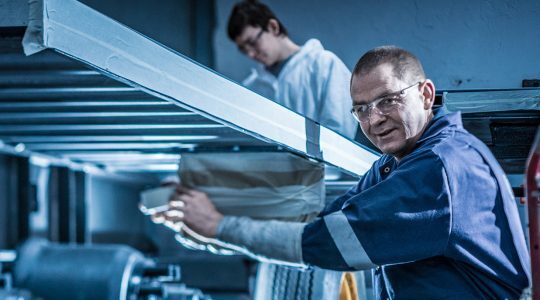 11 Apr

Gray & Adams Design Side Roller Shutter Door Vehicles as an Alternative to Curtainsiders for Henry Colbeck Limited

Gray & Adams Ltd. has recently supplied three fully bespoke multi-compartment refrigerated bodies to Henry Colbeck Ltd, the oldest and largest independent supplier to fish and chip shops in the UK. These bodies are the first Gray & Adams vehicles to be purchased by the company and are to replace three vehicles that had reached their life end.

The bodies were specially designed with two roller shutter doors to each side of the vehicle to assist in Colbeck's multi-drop operation, as an alternative to curtainsiders that the company traditionally used. As Colbecks drivers are often up against space and time constraints, these roller door bodies have proved to be more manageable than the company's curtainside vehicles.

Henry Colbeck Ltd. operates over 30 HGV's out of two sites in Gateshead and Coatbridge in Scotland but the bodies will distribute both frozen and ambient products throughout the whole of the North East of England and Cumbria, as well as Scotland. Cumbria. Previous to this purchase the company has always engaged local bodybuilders for their transport equipment needs, however, with three vehicles due on the road at the same time, they required a company that was capable of supplying multiple vehicles in one delivery.
"We were aware of the excellent reputation that Gray & Adams have in the market for delivery lead times and wanted all three vehicles on the road for 1st March… Because Gray & Adams hit the agreed deadline, we did not have any downtime or did not have to resort to hiring vehicles." – Paul Holliday, Financial Director, Henry Colbeck Ltd.
"We were impressed with the professionalism of Gray & Adams from the outset – from initial contact with the Sales representative to the quick turnaround of quotations and the eagerness to work with us on what was a completely new design for Gray & Adams. Having visited the Dunfermline site and seen the production facilities first-hand, we decided to proceed with the order. We are very pleased with the quality and finish of the bodies and expect to achieve an initial lifespan of seven years, compared with five on previous supplier's designs." – Tony Dowson, Transport Manager, Henry Colbeck Ltd.
Henry Colbeck is just one of a number of new customers that Gray & Adams have brought on board in the Scotland and North-East England regions in recent months. Vehicles are always designed specifically to individual orders and Gray & Adams are renowned for creating bespoke solutions to operational and vehicle design problems.