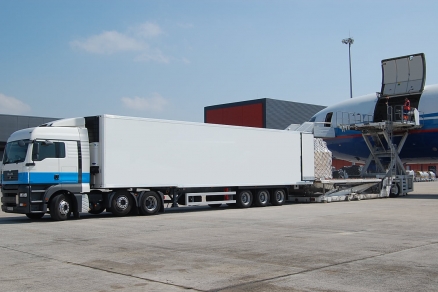 12 Jun

Gray & Adams Experiencing Increased Demand from the Airfreight Industry for Roller Bed Trailers

Although Gray & Adams has traditionally manufactured semi-trailers and bodies for the UK and Irish temperature-controlled transport industry, the company has always been interested in designing products to meet the demands of the market. One recent example is Gray & Adams response to the surge in demand from the airfreight industry for roller bed trailers.

The purpose of a roller track system is to facilitate the movement of heavy or bulk loads into and out of trailers or bodies. These systems offer significant reductions in loading and unloading times and have considerable health and safety benefits since there is more control over the load and less manual handling is required.

Depending on the operation's requirements, Gray & Adams roller bed trailers/bodies can be comprised of four, five or six pneumatic roller tracks, which do not compromise the internal load space of the vehicle. The stand-alone drive unit is externally mounted and does not require any external power source. The equipment is easy to use and maintain and the floors are robust enough to withstand the use of pallet trucks within the trailer. Gray & Adams roller track systems are compatible with most modern loading bays and docking areas.

Features such as flip-up pallet stops and track end impact rollers can be integrated into the design to prevent damage to the trailer and the cargo, keep loads in position and enhance safety for operators.

A removable roller track system is also available for increased flexibility and these have the added advantage of being reusable as they can be removed from one trailer and fitted into a new one when the life of the original trailer has expired.

Gray & Adams has recently delivered roller bed trailers to airfreight transport companies, Watkins & Sole and Tim's Transport Ltd., both based in Heathrow and to well-known cargo airline, Avient Ltd, to name a few.

Gray & Adams has an industry-wide reputation for high product quality and longevity. Roller bed trailers/bodies manufactured by Gray & Adams are constructed to this same high standard and as with all Gray & Adams equipment, roller bed products are bespoke designed with a strong focus on the company's operation and the end-users requirements.

Indeed, Richard Drury of Avient Logistics Ltd. believes that Gray & Adams offer the best package in the market for roller bed trailers.
"Because this was a completely new venture for us, we had a lot of independent research carried out on our behalf as to the credentials of a number of manufacturers of the product. We found that, not only were Gray & Adams highly reputable for build quality and back-up, but we subsequently found that the company was well priced within the market as well. Having taken delivery of our trailers, we are more than happy that the information that we received through our initial research was correct." – Richard Drury , Avient Logistics Ltd
Gray & Adams are soon hoping to be able to offer competitive leasing and contract hire packages also. The company is currently negotiating with a rental company to be able to provide roller bed trailers on spot rental if required.