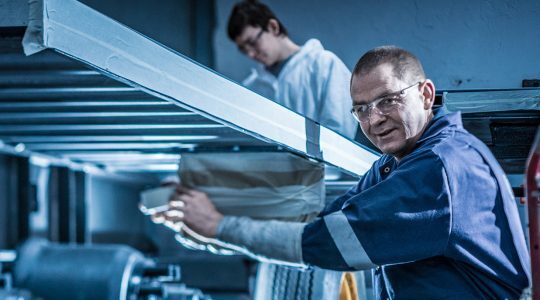 13 Mar

Gray & Adams goes the 'eggstra' mile for a Noble cause.

Britain's leading supplier of fresh eggs has enlisted a new fleet of temperature-controlled trailers as it steps up its campaign in support of the nation's armed forces.

The Gray & Adams trailers wear a striking livery that promotes Noble Foods' Eggs For Soldiers brand, a high-profile supporter of the army charity Help for Heroes – it donates 15p for each box of eggs sold.

All 13.6m single-deckers with Thermo King SLX-200 refrigeration units, the Eggs For Soldiers trailers are fitted with a full complement of Gray & Adams Eco-Aer modifications designed to reduce aerodynamic drag and thereby improve fuel economy.

These include:
Wide-radiused top cappings which smooth air flow over the top of the trailer;
A vortex generator incorporated into the roof at the rear, which delays air flow separation behind the trailer, and
Tapered side skirts which smooth air flow around the trailer.
Controlled tests carried out at MIRA (the Motor Industry Research Association) have confirmed that a Gray & Adams Eco-Aer trailer can reduce fuel consumption by as much as 10 per cent, compared to a standard reefer.
Each week, Noble Foods individually grades, packs and delivers over 72 million eggs which it sources either from its own farms, or from independent producers, many of them family-owned farming businesses.
In recent months Gray & Adams has also supplied semi-trailers – including several twin-deck versions with moving floors – for other Noble Foods brands, including the happy egg co.  Launched in 2009, this is now the UK's leading free range brand and takes great pride in ensuring the welfare of its hens, which have sandpits for dustbathing, playhouses to perch on and outdoor space to roam freely.
Mick Tucker, Transport Controller at Noble Foods, says: "As well as being committed to the highest welfare standards for our birds, and to a sustainable approach to farming, we are very conscious of our responsibilities to the wider community.
"That's why we've specified our new Gray & Adams trailers with Eco-Aer kits. Together with the fleet of dual-fuel DAF XF tractor units in which we've invested over the last 12 months, they are now helping us significantly to cut fuel consumption and thereby reduce our carbon footprint."
Noble Foods is a long-standing Gray & Adams customer. "We've tried other trailers over the years," continues Mr Tucker, "but they're not as robustly engineered.
"We get an eight-year life from a Gray & Adams trailer, and will re-livery it at the half-way stage. Other trailers, by contrast, can look very worn after four or five years, which is also when you start to get reliability issues."
He adds: "Gray & Adams' Area Sales Manager Martin Jane and his colleagues are a pleasure to deal with too. Their collaborative approach and policy of bespoke manufacture ensures that our trailers are built to a specification which is perfectly tailored to our operation and at a cost which is viable."
Noble Foods can trace its roots back to 1920, when William Dean, of Tring, in Hertfordshire, collected eggs from small holders and sold them door-to-door out of a straw-lined wicker basket. Nearly a century later, the company is still based in Tring and the Dean family still holds a 50 per cent stake in the business – Noble Foods was formed in 2006, when Michael Kent acquired the other half.
In addition to eggs, the Noble Foods portfolio includes two premium dessert brands, GU Chocolate Puds and Didier's Patisserie, a top end business with a number of exclusive retail and foodservice customers.
The company also works closely with key customers to create added value propositions under their retailer brands. For example, the Sainsburys Woodland Egg brand pledges that the outdoor range on each Woodland farm must have a minimum of 20 per cent tree cover – 1p per pack sold is donated to the Woodland Trust and goes towards planting new trees in the UK.