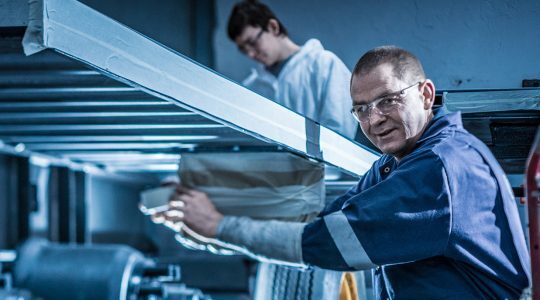 06 Mar

Gray & Adams presents a ground-breaking double at CV Show 2013

Another 'first' from Gray & Adams… the manufacturer will be presenting one of Reed Boardall's 44-pallet lifting deck trailers at CV Show 2013

Innovation will be the theme when Britain's leading manufacturer of temperature-controlled semi-trailers and bodywork returns to the Commercial Vehicle Show next month (9-11 April).

Dominating the Gray & Adams stand (no 5D136) in the Cool Pavilion at the NEC will be a 44-pallet lifting-deck trailer supplied to leading frozen food storage and distribution business Reed Boardall, and an 18-tonne Mercedes-Benz Axor rigid with radically-styled Dolphin body in the livery of Chiltern Cold Storage, one of the UK's most successful providers of temperature-controlled warehousing and global distribution services.

Gray & Adams' last appearance at the UK's premier road transport exhibition was in 2008 and Sales & Marketing Director Peter Gray declares: "It's great to be back. We're looking forward to a very busy few days in Birmingham, and to meeting as many established and prospective customers as possible."

The 44-pallet trailer is a recent addition to the Gray & Adams range. It incorporates a series of cleverly-engineered measures that allow operators to make practical use of every precious inch of space on the two decks to achieve a 10 per cent increase in carrying capacity compared to a standard, 13.6m double-decker.

Its introduction means that having been first to the market with a refrigerated double-deck trailer some 24 years ago, Gray & Adams is once again leading the way with the industry's first 44-pallet version.

The recently launched Dolphin, meanwhile, is so named because its streamlined profile evokes that of the ultra-efficient aquatic mammal often seen in the waters of the Moray Firth, close to Gray & Adams' Fraserburgh headquarters.

Designed to maximise fuel-efficiency and thereby cut CO2 emissions, the Dolphin also features all-new leading-edge body cappings that follow the 3D curvature of the roof, and a vortex generator to smooth the airflow around the back of the vehicle.

Reed Boardall, which operates from a 55-acre storage and distribution hub capable of accommodating up to 142,000 pallets, alongside the A1(M) at Boroughbridge, North Yorkshire, has been using Gray & Adams equipment for a quarter of a century. It runs more than 250 trailers, including the country's largest primary haulage double-deck fleet, and was the first customer for the new 44-pallet version.

Tom Cassells, Managing Director of Reed Boardall Transport, confirms: "The extra 10 per cent carrying capacity can be very useful, while Gray & Adams is a British company with very high manufacturing standards. The strength and build quality of its products translates into exceptional reliability and durability.

"We are delighted to have worked with Gray & Adams in the development of these vehicles over the years, and to have proven their worth in round-the-clock service."

Mr Cassells' views are echoed by Paul Jackson, Managing Director of temperature-controlled storage and distribution specialist Chiltern Cold Storage, which has just completed a major warehousing extension at its Peterborough headquarters.

He says: "We are proud of our green credentials and committed to achieving the best possible environmental profile, so when Gray & Adams announced that it was launching the new Dolphin we had no hesitation in ordering three. All of our multi-temperature equipment is by Gray & Adams – its trailers and truck bodies are the best on the market, not only for their quality but also for the strong resale values they command."

Design of the times… the Co-operative Group was the first customer for an aerodynamic Gray & Adams Dolphin, but the example on the manufacturer's stand at CV Show will wear the livery of Chiltern Cold Storage.