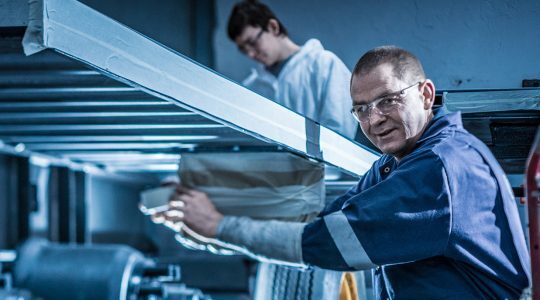 05 Aug

Gray & Adams Refurb Programme Facilitates The Co-operative's New Image

The Co-operative Group is currently in the midst of a £1.5 billion brand overhaul. In just over two years the company has refitted more than two thirds of their 4,300 stores with the new look.

Having invested significantly in recent years, Co-operative Retail Logistics now have a total fleet of more than 900 vehicles and 750 trailers. Currently in the fleet, the company has over 70 double deck trailers in operation, all of which were manufactured by Gray & Adams. The double deck fleet has made a significant impact on the company's logistics operation, by providing increased flexibility of loading, productivity gains and reduced environmental impact.

Gray & Adams are facilitating the Co-operative's re-branding exercise by refurbishing a number of double deck trailers from their fleet. Gray & Adams have refurbished 15 of the trailers so far, including floor and sidewall reconditioning and are hoping to complete the rest in the coming months. As well as refurbishing the trailers, each one has been re-liveried to support the Co-operative's new brand initiative.
"I'm very impressed with the quality of the refurbishments completed to date and I have obtained excellent feedback from my colleagues in the Society. The new look livery is very impressive when seen on the road." – Ken Thompson, Transport Manager, Co-operative Retail Logistics said,
The Co-operative is the fifth largest food retailer, the third largest retail pharmacy chain and the largest independent travel business in the and the group has, this year, also completed its acquisition of the Somerfield supermarket chain.
Gray & Adams was one of the first companies in the to design and manufacture double decks trailers. Over the years, Gray & Adams has refined the double deck manufacturing process, making a number of significant changes and additions to the range, which has resulted in double decks now accounting for around 35% of Gray & Adams entire trailer production.
Gray & Adams has developed the twin deck to incorporate a wide range of options, including single and multi-temperature, insulated and dry freight, and fixed or lifting deck combinations. There are over 1000 Gray & Adams twin decks in operation across the and , being used in operations ranging from parcel delivery to ambient, chilled and frozen food and dry goods distribution.
Gray & Adams also operates extensive repair and back-up facilities throughout the group offering comprehensive repair and refurbishment services across a broad range of vehicle types, from dry freight and refrigerated products to all sorts of specialist equipment.