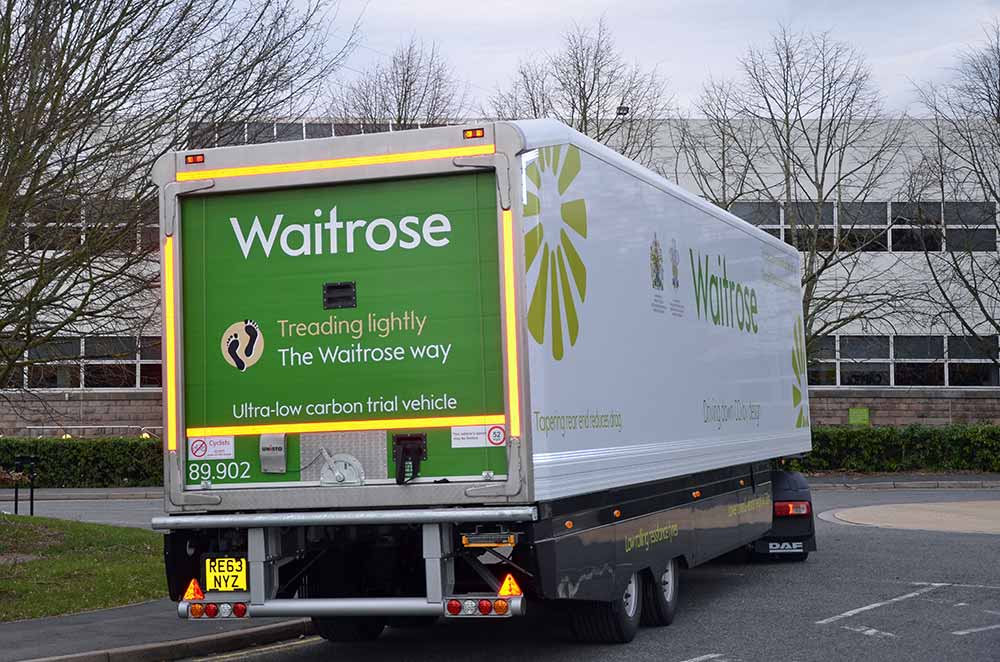 27 Mar

Gray & Adams reveals its CV Show line-up

Sustainability and aerodynamic efficiency will be the theme when the UK's leading manufacturer of temperature-controlled semi-trailers and bodywork returns to the Commercial Vehicle Show next month (24-26 April).

Dominating the Gray & Adams stand in the Cool Zone will be a pair of semi-trailers in the liveries of two of the best-known operators on Britain's roads.

To reduce drag Waitrose's ground-breaking 'Ultra-low carbon' trailer features a 'boat tail' design with slightly tapered side walls and a smooth underside, open at the back. Other wind-cheating enhancements include Gray & Adams' large radius panel cappings and side skirts. This trailer employs a Carrier Vector 1950 multi-temperature refrigeration system that can also be powered electrically from the CNG (compressed natural gas) -fuelled Scania tractor unit with which it will be presented.

Built for high-profile Newmarket-based haulier, Turners (Soham), the second 13.6m trailer has an aerodynamically efficient sloping rear roof profile and is fitted with a Thermo King SL Spectrum multi-temperature refrigeration unit.

Completing the Gray & Adams line-up at the year's Show – and underlining the breadth of the manufacturer's product range and capabilities – will be a 3.5-tonne Vauxhall Vivano with insulated box body and single-temperature Carrier Xarios 200 fridge in the colours of Eat Mair Fish, of Buckie, on Scotland's Moray Firth coast.

Gray & Adams has attended every Commercial Vehicle Show since 2013 and its stand at last year's event was the company biggest and most impressive yet. Joint Managing Director Peter Gray declares: "We're looking forward to another busy few days in Birmingham. It's always a great opportunity to meet operators with whom we already have relationships, and explain to prospective customers how the superior design and innovation of our products can help them to reduce costs."

Be sure to visit the Gray & Adams team on Stands 3D120 and 3E116.