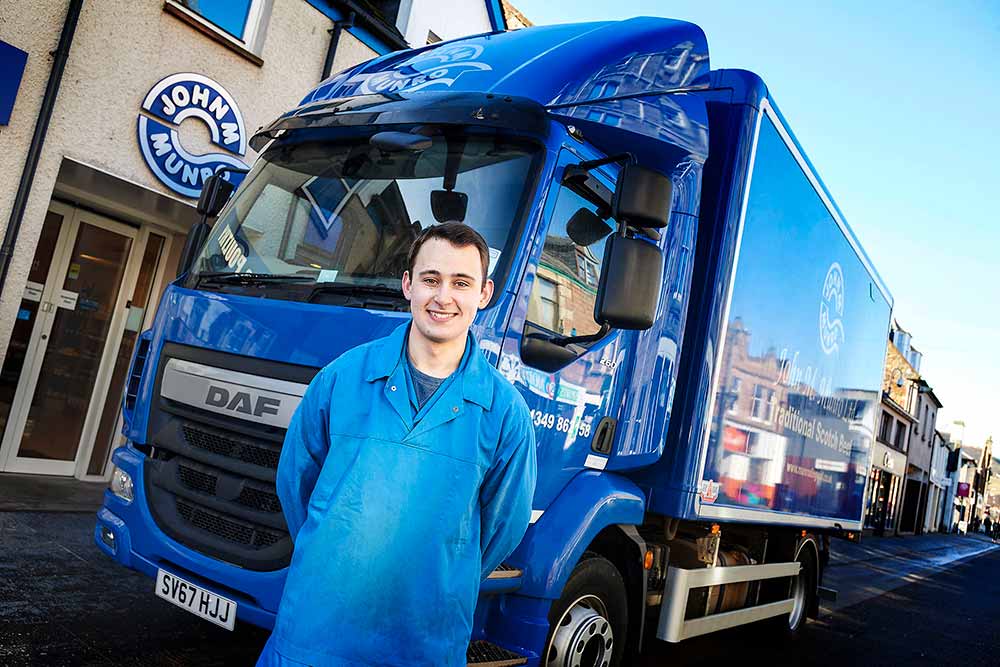 19 Mar

John M Munro runs on Gray & Adams meat rails

The latest Gray & Adams – built addition to the refrigerated fleet of Scottish craft butcher John M Munro is now hard at work, making deliveries throughout the Highlands & Western Isles.

Gray & Adams' insulated and heavily reinforced body is fitted with four roof-mounted, aluminium T-style rails, each with 10 double-barbed stainless-steel hooks. It is based on a 16-tonne DAF LF 260 chassis supplied by the Inverness branch of dealer Norscot Truck & Van, while Carrier's versatile Xarios 500 refrigeration unit and MXL 1100 evaporator provide single-temperature cooling.

The UK's leading manufacturer of temperature-controlled transport equipment offers a range of trailers and truck bodies purpose-designed to carry meat. Customers can choose from a variety of rail options, while high-performance insulated panels provide superior resistance to impact from heavy carcasses – each hook on John M Munro's new vehicle is capable of holding two quarters of beef typically weighing 75 kg apiece.

A fourth-generation family business founded in 1922, John M Munro operates six shops across the north of Scotland, as well as a modern abattoir and cutting plant in its home town of Dingwall. The company sources all of its high-quality meat from local farmers and markets – the rich pastures surrounding the Moray Firth are renowned for producing first-class beef cattle and lambs.

John M Munro runs a fleet of five temperature-controlled trucks and three vans, which were also insulated and refrigerated by Gray & Adams. The award-winning manufacturer's headquarters are in Fraserburgh, north of Aberdeen, but the new truck, like another similarly specified 16-tonner supplied a year earlier, was built at its Dunfermline production facility.

A well-established supplier to some of Britain's top hotels and restaurants, John M Munro is also contracted to provide meat products to 170 schools kitchens across the Highlands and Islands. The latest vehicle, however, spends most of its time delivering to independent butchers throughout the far north, a role that entails weekly visits to the Isles of Lewis and Harris, and Skye.

Managing Director Charlie Munro says: "We switched to Gray & Adams bodywork eight years ago and have not looked back since. Its products are exceptionally well built and robust – the new truck has replaced one that we ran for five years, which provided completely reliable service – and represent excellent value for money."

Gray & Adams takes pride in its consultative sales approach, and ability to design and build bespoke equipment which is perfectly matched to its customers' requirements. "Gray & Adams never tries to sell us an 'off the shelf' product, and we value highly the guidance we receive from its Business Development Executive John Burnett," says Mr Munro. "In our experience, none of its competitors offer the same level of help and advice."

He continues: "Gray & Adams equipment always commands strong residual values and we've found its vehicles a lot easier to sell than others we've run in the past, while the after sales back-up is first class too. Any problems have invariably been of our own making – one of our drivers might have damaged the body when reversing, for example. One quick call is all it's taken and the repair has then been dealt with very quickly, either at our own premises or back at the factory."

Underlining John M Munro's strong, family firm ethos, Mr Munro's father Eric is its Chairman, and it also provides employment for his wife Susan, son Ian and cousin John. "This company has played a prominent role in the Ross-shire business community for nearly 100 years," he says.

"It definitely helps to work with a supplier that not only knows us, but also knows the lie of the land up here in the Highlands, the kind of roads that we have to use and the type of customers to whom we're delivering."

And he adds: "We take great pride in the presentation of our vehicles, which are rigorously washed down every time they come back to base. Like all of our Gray & Adams-built trucks, the new one looks very smart in our livery and we couldn't be happier with it."

Gray & Adams' meat rails can be specified with hook covers which allow the hooks to be stowed against the underside of the roof, thereby reducing the risk of damage and maximising internal load height when not in use. The manufacturer has also designed vehicles with built-in meat-loading cranes. As well as fitting meat rails in new bodies and trailers, it can retrofit systems to older vehicles.