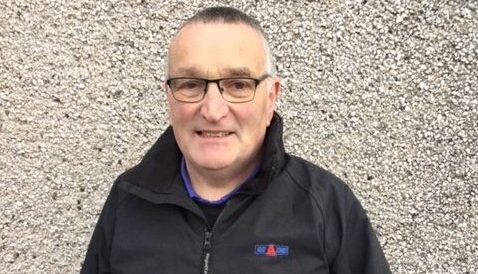 08 Dec

Kenny Stewart: Half a Century of Service

Now retired, Kenny worked for Gray & Adams for 49 years, working with us from the age of 15 to 64. He saw the company grow exponentially in that time, with his work contributing to that achievement.

How did you start working at Gray & Adams?

My father was a farmer, but there wasn't enough work for me to join him on the farm. I was always interested in mechanical work and fabrication, so with a few friends already working at Gray & Adams, I decided to join them.

I joined the business as an Apprentice Body Builder. At this time, the Body Builders got a frame and had to build the body around it, pretty much by themselves. We had to do a bit of everything to create the final unit; welding, fibreglass fabrication, woodwork and insulation fitting, to name a few of our tasks. It would be fair to say that we did the majority of the build elements when it came to producing a van. I really enjoyed that as a job! It was very satisfying to do everything yourself. The variety was gratifying and the pride at making a whole van was immense when it was done. This type of work was the favourite thing I did in my time at Gray & Adams.

What was your role when you retired?

The change to manufacturing sandwich panel trailers saw the business move to a build by section model. I moved into the department who would be making the doors. This is where I stayed for 30 years and I finished as Line Manager within the door department.

What had changed in the business since you started working with Gray & Adams?

The business has got so much bigger. The sheer size of the factory compared to when I started is now so much more impressive. The facility in Fraserburgh is huge. The volume of work we have coming through the factory has also increased from when I began all those years ago.
We have grown out of all recognition and our capacity for work is so much bigger.

What is your proudest moment during your career?

I think my proudest moment would be meeting Prince Charles and talking to him about my role in the business. He came to visit us to celebrate our 60th Anniversary. He took a tour of the factory and when he came to the door department, Colin Melvin, my Assistant Manager, and I were able to meet him and have a conversation with him about what we do for Gray & Adams. It was lovely for him to be interested in what we do in our day-to-day roles!

What is Gray & Adams like to work for?

Gray & Adams certainly look after their people. They really care for staff and will do what is right by you. I was ill, one of my main reasons for retiring, and the support I received from the business was first class. Nothing was a problem. As soon as they found out, they bent over backwards to make sure I had what I needed. The Directors were brand new about it!

The business is also a very safe company to work for – it really is rock solid. Similar businesses have come and gone, but we have remained and will not be going anywhere.

What is your advice for anyone starting at Gray & Adams?

Gray & Adams is very good to its people, but they expect you to work hard too. You have to be able to put in the effort; we need everyone to be delivering their best. So, you have to be prepared to roll up your sleeves and maintain a strong work ethic. If you do, the team will support your progression and development to any level in the company.

Sum up Gray & Adams up in one word?

Dependable. As an employee and as a customer you can rely on Gray & Adams to deliver for you.

What are your retirement plans?

Well, my first retirement goal is to fix up my back garden… after that I will see what takes my fancy!