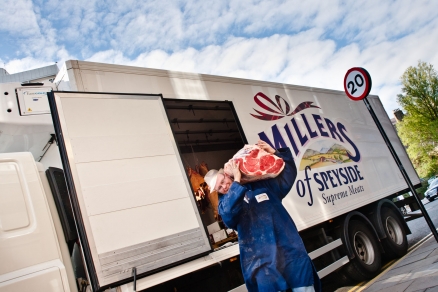 04 Jul

Millers of Speyside is hooked on Gray & Adams 'meat rail' bodies

When you're transporting cuts of beef weighing 75kg apiece on hooks suspended from your truck roofs, you need to know that those vehicles are built to take the punishment.

For Highlands supplier Millers of Speyside, peace of mind comes in the shape of heavily reinforced, temperature-controlled bodies by Gray & Adams.

The Fraserburgh-based manufacturer offers a range of trailers and truck bodies which are designed to provide superior resistance to impact from hanging meat and built from high-performance, insulated panels.

Operating from headquarters at Grantown on Spey, in the Cairngorm National Park, Millers of Speyside sells pork and lamb but is best-known for its premium quality, grass-fed beef, which is hung and aged on the bone for up to 21 days prior to production. This process helps to tenderise the meat and concentrate flavour, as well as preventing shrinkage during cooking.

Millers runs three 26-tonne trucks and a single 7.5-tonner, all of which have Gray & Adams bodies. The larger vehicles distribute its products to butchers, restaurants, major retailers and the wholesale trade nationwide, with the smaller truck allocated to local deliveries. The company also has a thriving export operation which dispatches weekly consignments throughout most of Europe and as far afield as Ghana.

The latest 'meat railer' to wear Millers of Speyside's livery is based on a DAF FAS CF75.310 6×2 rigid chassis supplied by Norscot Truck & Van Aberdeen.

It has a Carrier Supra 850 single-temperature (chilled or frozen) refrigeration unit and five Furgocar meat rails with hooks running the length of the 8.4m body – this system is most commonly used for hanging beef and lamb, while Gray & Adams also supplies bodies with mechanically-loaded round Euro rails employed mainly in the pork processing industry. The vehicle is additionally fitted with a set of rear-mounted, folding steps, affording Millers' driver easy access to the load area.

Millers of Speyside General Manager Duncan Reid says: "We've been running vehicles with Gray & Adams bodies for at least 15 years now, and they've never let us down.

"With heavy carcasses swinging from the rails it's important that the side walls, bulkhead, floor and roof of the body are sufficiently reinforced to withstand the pressures, so they don't bend or worse.

"Gray & Adams clearly know their business inside out, because we've never had an issue with one of their bodies. The build quality is always first class and the same is true of their after sales service, while it's also a pleasure to be doing business with another local company."

A member of the Quality Meat Scotland (QMS) assurance scheme, Millers of Speyside obtains all of its products from reliable, established sources and can therefore guarantee its customers full traceability "from gate to plate".

Gray & Adams' meat rails can be specified with hook covers which allow the hooks to be stowed against the underside of the roof, thereby reducing the risk of damage and maximising internal load height when not in use. The manufacturer has also designed vehicles with built-in meat-loading cranes. As well as fitting meat rails in new bodies, it can retrofit systems to older vehicles.