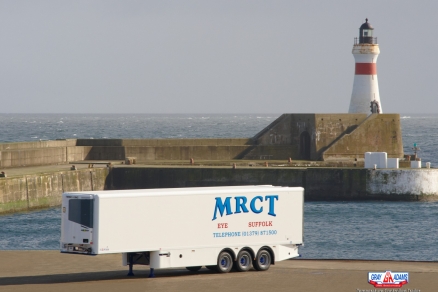 30 Aug

MRCT Purchase Gray & Adams Eco-Aer Trailers to Fulfil Contract for Customer with 'Eco-Friendly' Factory

Family-owned Moores Refrigeration Controlled Transport (MRCT) has recently purchased two trailers from Gray & Adams Ltd: one with the full Eco-Aer package of radiused cappings, roof vortex generator and tapered side skirts and one with cappings and vortex only. The trailers will be used specifically to fulfil a contract with a customer that has turned their production plant into an 'eco-friendly' factory.

Through being active in seeking out vehicle technology that will enhance fuel efficiency and therefore reduce the company's carbon emissions, MRCT has been able to offer added value to its customers. Having certain 'green' credentials is undoubtedly advantageous when tendering for work, particularly with the multiple retailers who are becoming increasingly conscious of their environmental and social responsibilities and this is something that has been recognised and acted upon by MRCT.
'Our philosophy is to be proactive to customer requirements and always look forward to the future, which allows us to offer the highest possible service levels'. The purchase of eco-friendly vehicles with the most fuel-efficient engines and the Gray & Adams trailers with aerodynamic kits shows our commitment to working in partnership with our customers'. – Mr A D Moore, Joint Managing Director of MRCT
MRCT are currently trialling the two versions of the Gray & Adams Eco-Aer and are monitoring miles per gallon performance. The basis of these results will allow MRCT to make informed decisions on future aerodynamic trailer purchases.
MRCT's principles of understanding customer requirements and being proactive in service delivery have contributed to the growth of the company, from a small family-built business into the medium-sized multi-depot network that it is now, catering for all major retailers, food service suppliers and wholesale markets. Depots are now located in Eye and Flixton in Suffolk, Scunthorpe in North Lincolnshire and Willand in Devon.
Andrew Brown, General Sales Manager of Gray & Adams Doncaster, who has been looking after the MRCT account for many years, commented:
"When I learnt of MRCT's ambitions to become more 'eco-friendly' I saw the opportunity to provide them with our Eco-Aer solution to help cut carbon emissions. MRCT's adoption of the Eco-Aer specification proves that the kit is not just suitable for the big players in the industry – medium and small sized operations, and even single owner-operator businesses can benefit from the CO2 and cost reducing features too'. – Andrew Brown