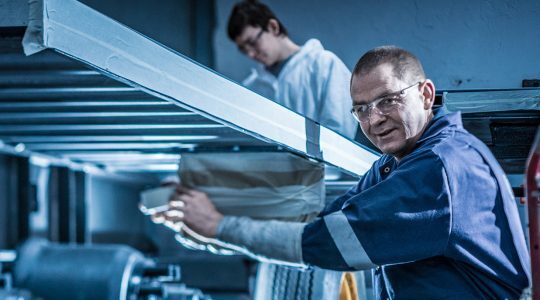 03 Sep

Pilgrim chooses lightweight Gray & Adams bodies

It's adopted a new chassis but true-to-form Pilgrim Foodservice has fitted the latest additions to its fleet with temperature-controlled bodies by Gray & Adams. The operator typically runs its trucks for seven or eight years, at which point it removes the insulated boxes and fits them to replacement chassis.

"We've tried other suppliers' bodies in the past but they didn't stand the test of time," says Pilgrim Foodservice Managing Director Peter Bateman. "Gray & Adams equipment, by contrast, is manufactured to such a high standard that we know we can rely on it to give us a double life. Providing outstanding service is at the forefront of our business and it is therefore vital that we can trust our vehicles to deliver effectively to all of our customers."

Mr Bateman founded the family firm in 1979. Based in Boston, Lincolnshire, it supplies approximately 4,000 frozen, chilled and ambient food lines, as well as cleaning and disposable products, to an expanding customer base that currently takes in 15 counties throughout the eastern side of the country.

"We used to shop around for our temperature-controlled vehicle bodywork," continues Mr Bateman. "But I started dealing with Gray & Adams' Director Steve Rose 15 years ago and since then we've not bought from anyone else."

The Pilgrim Foodservice fleet is dominated by Mercedes-Benz Atego 16-tonners but the new arrivals are 7.5-tonne Fuso Canter 7C15s. The operator trialled a Canter demonstration unit last year and was so impressed by its high payload and fuel efficiency that it quickly returned with an order for more.

Mr Bateman explains. "The lightweight chassis complements Gray & Adams' body perfectly, and allows us to carry a good half a tonne more than we could on a conventional 7.5-tonner. Fuel economy is also very impressive, and this helps us to further reduce our impact on the environment."

Pilgrim's new Canters are from the latest model range launched last spring and all feature DUONIC dual-clutch automatic transmissions, which have been a big hit with drivers.

The construction of Gray & Adams' dual compartment – half frozen, half chilled – bodies also contribute to the high payloads. Fitted at the manufacturer's Doncaster production facility, and equipped with Carrier Xarios 600 multi-temperature refrigeration units, they feature fixed bulkheads with wing doors.

Triple back doors and Planarctic strip curtains help to maintain temperature integrity during multi-drop delivery rounds, while other practical features illustrating Gray & Adams' attention to detail include, at the rear of each vehicle, a rebated pan with safety grip features.

A high-profile member of the British Frozen Food Federation, as well as the Caterforce buying and marketing consortium and Today's Group 1 Foodservice, Pilgrim takes pride in its strong brand image. So as well as wearing the operator's eye-catching livery, its new Canters have been fitted by Gray & Adams with high-level lighting along the back and sides of the body.

"We invest extra money in aesthetics to reflect the fact that we're a quality business," adds Mr Bateman.

Completing their comprehensive specifications, and in line with company policy, Pilgrim Foodservices has also fitted its Canters with multiple, digitally-recording cameras, which are used for driver training and to protect it from bogus insurance claims, and with TomTom Professional systems which as well as navigation assistance provide data on driving styles and their impact on fuel consumption.