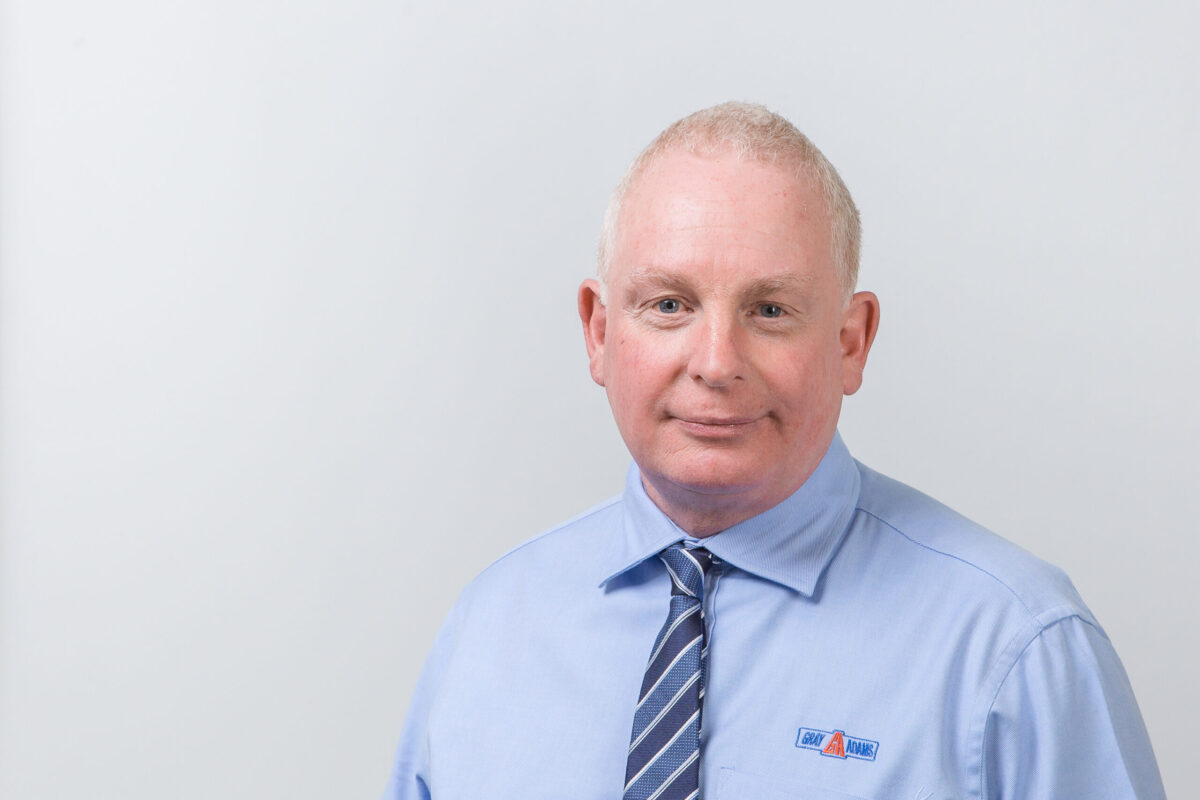 20 Apr

Reflecting on a lifelong career – Stuart Martin, Sales Director, Ireland

At Gray & Adams, we are proud of our people and the lifelong career opportunities we can offer them. Testament to how we value our people, Gray & Adams has various long serving members of staff who have been with us for many years. In this edition, we speak with Stuart Martin, Sales Director, Gray and Adams Ireland as he reflects on his passion for working with vehicles from a young age and his almost 40-year career with Gray & Adams, despite not being fully convinced by his choice to move into the refrigerated trailer industry in the beginning.
Discovering an early passion
One of my earliest memories is discovering a hoard of old Commercial Motor magazines dumped at a friend's stables and from that moment, I was hooked. From then on, I avidly read that publication along with Truck and Truck International. The transport scene in Britain was changing from traditional manufacturers such as ERF, Foden, and Leyland with the introduction of more modern vehicles from Scania, Volvo and Renault and these new innovative products caught my imagination, I was fascinated by stories of international journeys to Europe and the Middle East.
 Upon completing my education, I was determined to follow in my father's footsteps and embark on a sales career. I joined the local Mercedes Benz franchise and after a period of training, I soon began selling vans and trucks, some of which I couldn't legally drive on the roads. My 21st birthday couldn't come soon enough so that I could get my Class 1 licence.
Coming to Gray & Adams
 It was during this time that I met Harry McEwan, the Managing Director of Gray & Adams Ireland. He persuaded me to join the company and for the first couple of months I felt that I had made an awful decision and secretly wondered if I could sneak back to my old employer! However, I persevered in my new role and a couple of years later moved into trailer sales and began to really enjoy my career. I learned my trade and that, combined with an inquisitive mind, enthusiasm, and a desire to succeed, allowed me to begin to pick up customers in Northern and Southern Ireland.
Gray & Adams Ireland is more remote from Fraserburgh than the other depots in the group and we were given huge latitude to develop and nurture our market. I enjoyed the hands-off approach and the relative freedom to work independently. Being part of a family firm always appealed to me, I don't think I could ever have got used to a corporate culture. Gray & Adams instilled a sensible, realistic, and pragmatic approach in how we dealt with our customers, and we often went the extra mile. 
I reported into Jim Gray who was full of common sense and wisdom and quietly appreciated the efforts we went to whilst working in a difficult environment during The Troubles in Northern Ireland. I am fortunate to have worked for a titan within the industry and played my part in making our company a well-respected leading brand. Jim Gray was the Henry Ford of refrigerated trailers, and I am delighted to be part of that experience.
Looking to the future
 As we meet the unprecedented challenges having emerged from Covid, the material and component shortages and the crisis in Ukraine, we have all quietly risen to those demands and continue to chart a steady path in delivering industry leading products and services.