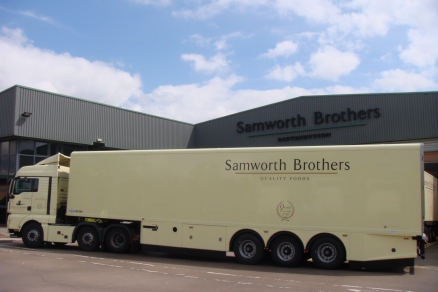 12 May

Samworth Brothers Distribution Confirms Gray & Adams Eco-Aer Fuel Saving Figures

Samworth Brothers Distribution, part of Samworth Brothers Ltd., one of the UK's leading chilled foods producers, has completed operational trials of the Gray & Adams Eco-Aer trailer: a temperature-controlled trailer that has been modified to offer better aerodynamic properties.

The company has been using the Gray & Adams Eco-Aer rounded cappings and vortex generator configuration on their trailers since January 2008 and now has 35 trailers of this specification in their total fleet. These features help to streamline air flow over the top and around the trailer to reduce drag and therefore reduce fuel consumption. Although the Eco-Aer side skirts have not been fitted to date, the company is now waiting on delivery of a number of new trailers, one of which will have the full Gray & Adams Eco-Aer package, including tapered side skirts, so that further testing of the aerodynamic kit can be undertaken.
"In recent like-for-like trials against a standard square Gray & Adams trailer, results for the trailer with the rounded cappings and vortex generator showed a definite marked improvement in fuel consumption". – Graeme Hawker, Fleet Manager, Samworth Brothers Distribution
In fact, the trials confirmed the results achieved by the Gray & Adams test trailer at MIRA, which proved that, without skirts, up to five percent reduction in fuel consumption can be achieved over a 'standard' Gray & Adams reefer. The Samworth trial was conducted under strict, consistent conditions as far as possible, including the use of the same driver and tractor unit and the trailer carried the same load on the same South Yorkshire route.
As well as this, feedback from Samworth's test driver has outlined an additional benefit to the Gray & Adams Eco-Aer. He explained that vehicle stability is improved with the Eco-Aer design, particularly in cross-winds. This improved performance in cross-winds is due to the way in which air flow is less turbulent when travelling over the rounded edge on the top corner of the trailer where the wind force is being exerted, compared with straight, square edges.
With almost 150 trailers in total, collectively covering more than 14 million miles per year, there is obviously a huge incentive for Samworth Distribution to introduce initiatives that can help to improve the company's carbon footprint, as well as to take advantage of the significant cost savings that can be made from improved aerodynamics. Using the CO2 and cost saving calculator on the Gray & Adams website, assuming nine miles per gallon and £1 per litre of fuel, and based on a speed of 40 miles per hour, it is calculated that Samworth Distribution could potentially save around £340,000 in fuel and reduce CO2 emissions by around 900 tonnes per annum, if the rounded cappings and vortex generator were introduced to the entire fleet!
With fleet efficiency and environmental impact being considered, Samworth Brothers Distribution is becoming more conscious of methods of improving fuel consumption. As well as trials of the Gray & Adams Eco-Aer, the company is committed to proactive driver training and continuous equipment maintenance to ensure that all vehicles in the fleet demonstrate the same miles per gallon across the entire life of the vehicle as they did when they were first introduced to the fleet. Driver and vehicle usage is also monitored using a telematics system.
As a result of successful trials, Samworths now have all trailers in their next delivery specified with the rounded cappings and vortex generators and the outcome of their trials of the full Eco-Aer package are imminent.
Samworth Brothers Distribution is just one of 13 businesses under the Samworth Brothers Ltd. umbrella, which also includes prominent British Brands, such as Ginsters and Mrs Beeton's, and as a group produces chilled products from sandwiches, salads and ready meals to desserts and cooked meats.
The distribution arm of Samworth's operates out of modern facilities in Leicester, Cornwall and Bristol and provides an extensive range of temperature-controlled distribution services to the manufacturing sites of the Samworth Brothers Group as well as many external customers. Samworth Distribution supplies all of the major supermarkets in the UK as well as leading forecourts and convenience stores.
Now in the fourth generation of being family owned, Samworth's strives to be a socially, ethically and environmentally responsible company that believes that long term success for the business depends upon continuous improvement across all aspects of the organisation. Becoming more efficient is one of the main aims of the company's philosophy and a longstanding partnership with Gray & Adams has allowed for continual improvements in the company's trailer fleet, the introduction of the aerodynamic Eco-Aer being the most recent development.