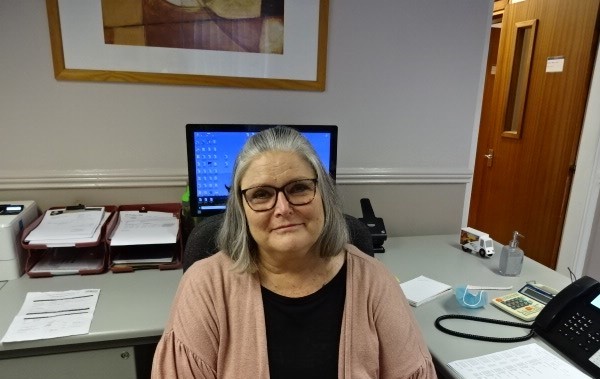 18 Oct

Staff Spotlight: Debbie Young

Gray & Adams is proud of its people and we recognise that their commitment and expertise is the key to the long success of the business to date. We have been fortunate enough to have had many long-serving employees over the years and we believe it is important to have their dedication and hard work recognised.

In October 2023, Gray & Adams celebrated the retirement of long-serving Gray & Adams employee Debbie Young. Debbie was based at Dunfermline and worked for the business for 27 and a half years. We caught up with Debbie just before her retirement to find out more about what she will miss about working for us and what she is looking forward to as she enters this new chapter.

Tell me about your time with Gray & Adams

I am originally from South Africa and moved over to Scotland
in the 90's. I saw a Gray & Adams job advert in the local paper, came for an interview, had my first day on 4th March 1996 and I have been here ever since. I started my career as a receptionist and assisted stores with various inputs, such as requisitions and paperwork. My role then started to expand over the years, and I took on other responsibilities such as purchase ledgers, sales ledgers and attendance records. I have also at times helped out in Fraserburgh for the payroll, carried out administration tasks for the sales side of the business and helped the General Manager too.

What did you do before you came to Gray & Adams and why did you want to work here?
Before I moved to the UK, I was a Secretary Administration Manager in South Africa, it was here that I learned to type in manual typewriting, and helped me gain the experience to begin my role as a Receptionist at Gray & Adams.

What have you enjoyed most about working for Gray & Adams?

I like the family feel of the company, most of the staff here in the office area have been here for a few years and it's friendly and even those who have come later, have fitted right into our Gray & Adams family. I like that Gray & Adams is leading in the market of refrigerated vehicles, I think it is so exciting to see the process go from start to finish, starting with the drawings. I have really enjoyed getting to know everyone at Gray & Adams, not only where I am based in Dunfermline, but meeting and talking to people from the other branches too.

What are your plans for retirement?

I would like to travel as much as I can while I can and also spend more time with my grandchildren.

Debbie would like to thank everyone who has been part of her time at Gray & Adams and will think of her time there with fond memories.