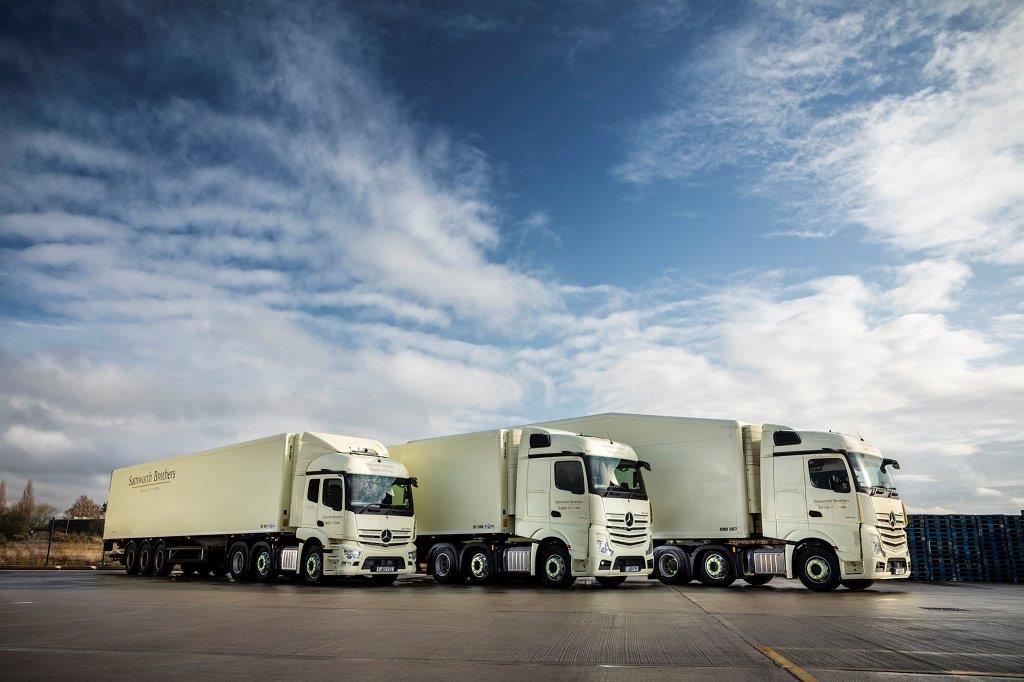 19 Aug

The BIG Interview: Paul Marrow of Samworth Brothers Supply Chain

For this edition of our BIG interview, we were thrilled to be able to sit down with Paul Marrow, Operations Director at Samworth Brothers Supply Chain (part of the Samworth Brothers Group). 

1. Can you tell us a bit about your role at Samworth Brothers Supply Chain? 

I've worked in the Transport, Logistics and Supply Chain industry for over 30 years and have been with Samworth Brothers for the last four years. As Operations Director, I look after around 560 staff as we work to distribute Samworth Brothers Group products to chilled food retailers, manufacturers, and other distributors across the length and breadth of the country. 

2. What services do Samworth Brothers Supply Chain provide? 

Samworth Brothers is a fourth-generation family business with a range of businesses and brands, operating from well invested and modern food manufacturing and retail sites across the UK. Since 1998, Samworth Brothers Supply Chain has been in operation, providing high quality, cost effective, temperature-controlled distribution services to companies within the Samworth Brothers Group, including brands such as Melton Mowbray, Ginsters and Soreen. 

The business operates out of four chilled distribution sites (Leicester, Penrith, Callington and Bristol), seven days a week, 24 hours a day. We have a reputation with retailers for providing the highest levels of on-time delivery performance within the chilled food market. Our figures speak for themselves: 97% on-time service levels; 70% of our volume is day one for day one; 99.9% pick accuracy. Each week, our warehouses handle over 25000 pallets and pick 950,000 cases. 

3. How long has Samworth Brothers Supply Chain been working with Gray & Adams? 

The Samworth Brothers Group has been working with Gray & Adams for over 30 years, whilst SBSC has probably been working with them since around 2001. I've got trailers on our fleet which are at least 12 years old, which says a lot about their reliability and build quality. 

4. What have been the impacts of Covid-19 for Samworth Brothers Supply Chain? 

Apart from the obvious closures, furlough, and changes during the pandemic, we have had some interesting learnings too. Although fresh food sales declined a bit, we found growth in other areas of the business, such as baked goods and products which sustained cooking at home. Overall, we were able to remain very consistent in our operation. We were also extremely fortunate to have great processes and mechanisms in place to protect us – our team really came together and adapted well to the new safeguarding measures to ensure it was as straightforward as it could possibly be.  

5. How do you feel your business aligns to the Gray & Adams business? 

Samworth Brothers is a family company, and our values are really important to us – It's hugely valuable to find businesses which are similar. Gray & Adams and some of our other longstanding partners have worked alongside us for many years and that really tells you something. For us, it's simple – We ask for honesty and transparency. If it's not going to be good, tell me. The world isn't perfect, and we don't need it to be, it's that trust that's the main thing for us. 

6. What are the key innovations in the industry in 2021 from your perspective? 

I think we're on an interesting journey towards sustainable innovation now. Electrification is undeniably part of the solution, and the ambitions are admirable, though I don't think there's enough research into large commercial vehicles yet to fully support the Government plans for carbon and particulate emissions reductions targets. 

I've also been impressed by the growth in partnerships to further electrification as part of the journey – Fantastic to see some of the big companies working together to find solutions to help move things forward more quickly. There are other remarkable innovations which are going to happen too, like autonomous driving – It's just a matter of when!  

7. How does Samworth Brothers Supply Chain ensure it always stays at the forefront of industry innovation? 

We attend seminars, events, keep our eye on social media, industry sites and magazines – all those channels help us to do our research and keep learning. However, we also reach out to our trusted partners such as Carrier Transicold, Volvo, Mercedes and Gray & Adams, for expertise, advice and guidance. They have worked with us for a long time and often know us better than we know ourselves. 

8. You recently placed multiple double decks and twin member orders, as well as several brand-new e-Cools – what has driven these purchases for your business? 

In terms of Double Decks, they make up the largest percentage of our fleet. We have 240 trailers and 71 are double decks. We're one of the highest independent users of double decks in the UK and we think they are a fantastic product.  

We are proud to be a forward-thinking business which has sustainability at the forefront of our thinking and reduced carbon is therefore very attractive to us. We had planned on new trailers and when the Vector E-Cool came on the market we changed our plans and looked for revised capital to allow for that investment. Having also invested in six new Volvo trucks, we'll be very proud to see our new Gray & Adams Vector eCool trailers on the back. 

Given the many supply chain issues that are prevalent across the automotive industry globally, we are always looking for sound commercial judgements that, in this case, have been influenced by Gray & Adams' support. They give us guidance and counsel on what's new in the market, greater economical returns, ways to reduce carbon, driver aids and, importantly, how to keep people safe. 

For example, we recently collaborated with Gray & Adams on a lighting system underneath our trailers to help the driver see the area on the ground around the trailer as they reverse. This not only prevents damage to the vehicle, but it also helps to keep pedestrians away from the area whilst reversing so it has multiple safety angles. Between us, we've developed something that adds value across several key elements for our operation and this is a big part of the reason we have such a long-standing relationship. 

9. How important is sustainability when considering the specifications of your fleet and how does Gray & Adams help you to achieve this?  

We're ambitious as a business and sustainability is a big consideration for us. We never shy away from strategic decisions which can help us reduce our carbon footprint and our impact on the environment.  

There are a few things in play when we're looking at how our fleet can meet this expectation. With the pending Government plans for removing tax relief on red diesel, we're looking for ways to reduce usage. We're also looking at better insulation, improved waste management, innovative engineering or advances in electronics.  

10. Are there any other key drivers which will impact how your fleet evolves moving forwards? 

Our fleet has several priorities but must always provide the highest level of safety and efficiency whilst protecting vulnerable road users. We have our own driver training academy, and all drivers are scored using telematics and analytics packages so that we can manage continuous performance improvement and retrain when necessary. 

Fleet consistency is also important to us – we don't have a mixed fleet as we found that drivers were often habitual by nature. For example, if we change the number of steps down from the cab of a truck, we found that small accidents were more frequent. Consistency in our fleet helps to prevent those unnecessary health and safety issues. 

11. Finally, your thoughts about the overall service and aftercare received from the Gray & Adams team? 

The service is fantastic, really. We have our own on-site engineering team, and they work exceptionally well with Gray & Adams – really great collaborative work and they're very clear and easy to work with. I would have no complaints about the products, service or aftercare!