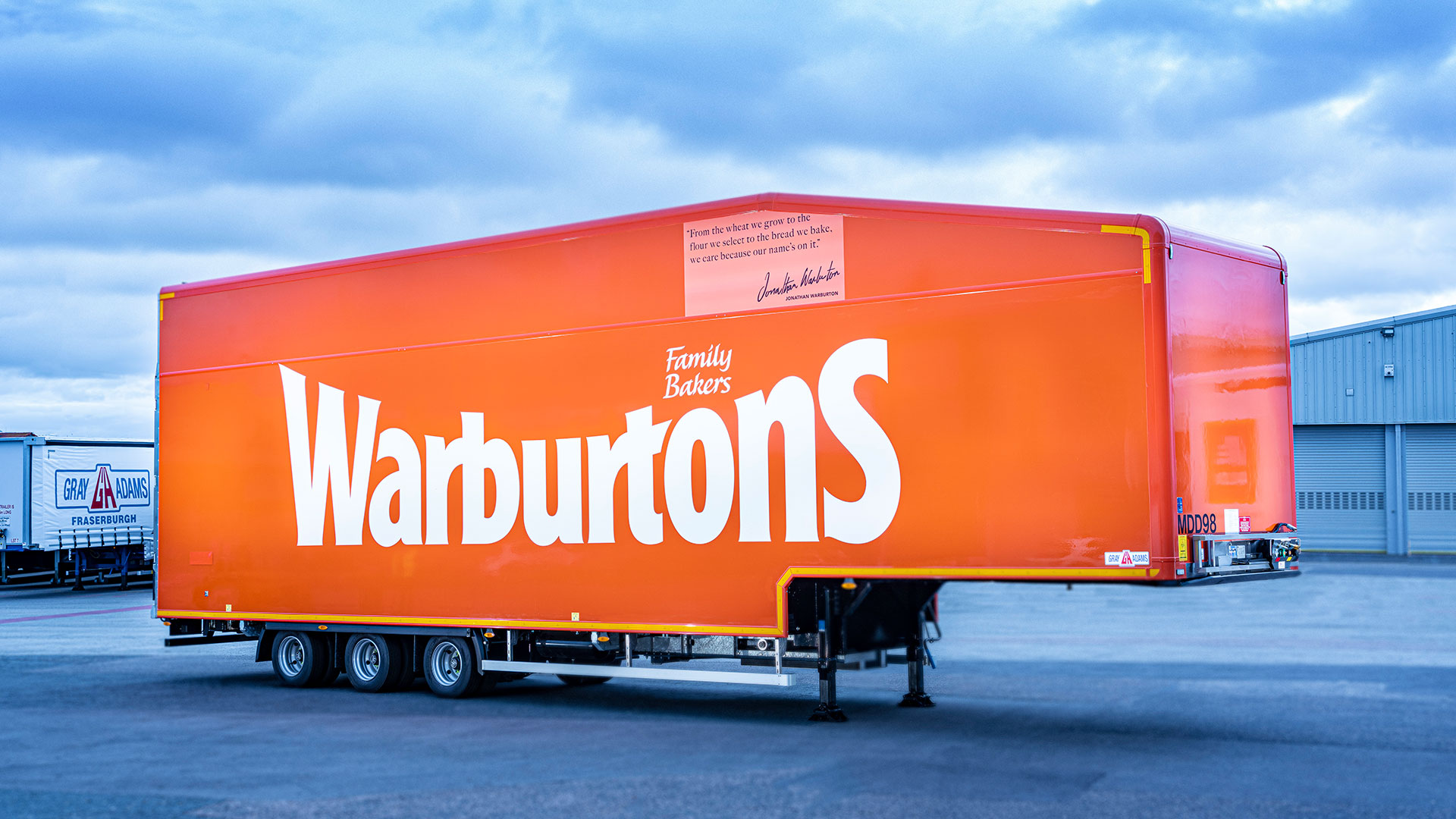 10 Dec

Warburtons: an interview with Steven Gray
We caught up with Steven Gray, National Transport Manager at Warburtons to discuss their relationship with Gray & Adams and some current industry trends.
How long has Warburtons been working with Gray & Adams?
There has been a relationship between Warburtons and Gray & Adams since long before I joined the business around five years ago. We operate 130 trailers, all of which are manufactured by Gray & Adams.
How do you feel the Warburtons business aligns to the Gray & Adams business?
The driving force behind the Warburtons brand is quality, which is a value we share with Gray & Adams. We are both family businesses that are focused on our products and their longevity.
What are the key innovations in the industry in 2019 from your perspective?
As operators strive for sustainability, alternative fuels (such as biomethane) and electric vehicles are becoming more prominent across the industry. When it comes to carbon reducing technology in our vehicles, Gray & Adams has worked with us on various trailer designs that have brought about a further 8% in fuel efficiency due to improved aerodynamics.
What challenges do you see the industry facing at the moment?
There is an increasing level of control required in the commercial vehicle industry, with more stringent levels of legislation and airtight regulations. For example, the implementation of clean air zones came as a challenge for our operations in highly polluted areas. As a family owned business, Warburtons invests heavily in its distribution fleet, enabling us to stay ahead of the curve and ensuring we are well positioned to meet the correct UK legislative and regulatory requirements.
How does the fleet at Warburtons benefit the company, outwith the obvious logistical requirements?
The Warburtons brand is important to us and the technical quality of the Gray & Adams trailers reflects in the overall look of the product. The trailers are brilliant pieces of equipment and they look great on the road, which is consistent with our brand image. As well as this, we run our trailers for 10-15 years to get the maximum return on investment, and because of the built-in quality of Gray & Adams' vehicles, that's not a stretch. We could source cheaper trailers but, apart from the odd scratch or bump, our Gray & Adams' trailers look pretty much brand new, even after 10 years – we feel you can't get that level of durable quality anywhere else.
What value does Gray & Adams add to Warburtons customers?
The big thing for us is that we transport bread and baked goods that we must keep at the correct temperature to provide our customers with the freshest, best quality product. We could use a standard box trailer for this, but we choose to use Gray & Adams' insulated trailers as the quality and insulation allow us to transport our bread at the ideal temperature to ensure it hits the shelves in the best possible condition for our customers.
How does Warburtons ensure it always stays at the forefront of industry innovation?
One of the ways we do this is through membership of industry bodies. Warburtons is a member of several trade organisations including the Freight Transport Association, and we are a contributing member of their Logistics Emissions Reduction Scheme. Our business also invests heavily in its people and, therefore, our distribution management personnel regularly attend training on new developments and processes in the industry, which helps to keep us informed and ahead of industry trends.
How important is sustainability when considering the specifications of your fleet?
Sustainability is massively important. It is becoming a higher and higher priority when looking at the specifications of vehicles. At Warburtons we have previously incorporated a "boat tail design" at the rear of the trailer which helps increase fuel efficiency. This design originated from the Centre of Sustainable Road Freight and, when we took this to Gray & Adams, they were more than happy to work with us to incorporate it into our own specifications. What sets Gray & Adams apart from competitors is they really make an effort to tailor their products to specific customer requirements with all products designed and built to match our needs.
We have, and continue to, conduct trials with several manufacturers of new technologies such as electric, LNG & CNG vehicles. We have a long history of working with sustainable alternative fuel technology. We operated our first electric vehicle as far back as 2009 and we also operated a fleet of duel fuel CNG vehicles around the same time. Although the technology wasn't as refined or efficient back then, operating these vehicles gave us invaluable experience, so we now have the data on how best to implement this type of tech in our operations.
Are there any other key drivers that will impact how your fleet evolves moving forwards?
Potential changes to the nature of our operations. For example, we now transport other 3rd party products as well as our own, which has had a considerable impact on the volume of product we are moving each day and this, in turn, has given us the opportunity to rethink the type of vehicle we require.
Finally, your thoughts about the overall service and aftercare received from the Gray & Adams team.
Fantastic. I can't fault them in any shape or form. What comes through from Gray & Adams and sets them apart from the competition is the pride that they take in their own product. Also, the bespoke nature of their service – they don't just churn out boxes, they understand what we want to use the vehicle for and tailor the product to our needs, with a quality that can't be beaten.